An Instagram account that makes gay beauty go viral doesn't think Asians, men of size are attractive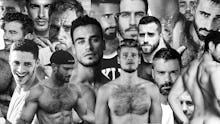 Why is gay Instagram such a wasteland of boring, exclusive, muscular whiteness? That's the question some are asking after Hoscos, a popular Instagram account followed by over 314K users, decided to defend their lack of effort toward inclusivity — and then issued an about-face once they were publicly called out.
The problem isn't Hoscos' prerogative to post whatever images they choose, but larger issues around the often-uniform perception of beauty within the gay male community. The standard of beauty is often centered on whiteness and chiseled bodies and altogether erases the existence of anyone outside that rigid norm. As Mathew Rodriguez wrote in 2016, "The social privilege of whiteness still affords them a disproportionate amount of power in the gay community" — a power that often can often lead to the perpetuation of "sexual racism."
So what is the Hoscos aesthetic? If you like your men with a little grunt in their dumbbell curl, or if you are a lover of somewhat exposed derrieres, entirely exposed derrieres, naked men contemplatively staring out on a mountaintop or couples whose bodies are so similar in definition you'd swear there was some sort of genetic mutating at play, then Hoscos is an account you might consider tapping. (There's also an image of Tilda Swinton if you scroll down far enough, 'cause... gender diversity?)
The Hoscos account is shrouded in mystery. "No Direct Messages," their Instagram description reads, encouraging users who wish to be featured to simply tag the account — a clever branding maneuver, no doubt. (Multiple requests for comment from the Instagram account owner went unanswered — but not unseen.)
But don't be dissuaded entirely. The account owner does respond to the occasional direct message. And here is the proof.
On Dec. 6, Ziad Stephan, the 30-year-old head of social media at Zynga, messaged Hoscos with a simple inquiry. "I said 'Hi, I'm curious as a follower of your brand why you don't include more men of color and beautiful men who fit the body image that's portrayed within the community,'" Stephan said in an interview with Mic. Stephan, who just came out as gay two years ago upon arriving in San Francisco, was trying "to figure out my sexuality and live an authentic life," and wasn't looking to pick a fight. Rather, he wanted to gain a better understanding of Hoscos' curation process.
Hoscos followed by sending four images of chiseled black men, with no written response. Stephan tried again, and eventually received a written response from Hoscos telling him that though the account wished to post "thicker people," it could not find photos that "make me fall in love." Hoscos added: "Or even Asians."
Stephan says he was not offended by what he perceived to be Hoscos implying he was thick. "I was more offended with the comment about Asian men because none of that was even mentioned," Stephan said.
The day after the exchange, the account began featuring Asian men, seemingly in direct response to the call-out. Parse through Hoscos' page in the weeks since and you'll see a number of Asian men, some models, some influencers — Kay Thao on Dec. 29, Jonathan Chang on Dec. 25, Ernest Poh on Dec. 23, Luffy Piece on Dec. 20, Godfrey Gao on Dec. 16, Clarence Chow on Dec. 10 and Andrew Lee on Dec. 7.
Earlier on Dec. 7 Jordan Yeoh's image was featured on Hoscos' page with the following apology from the account's owner: "I want Hoscos to be inclusive and diverse. I sincerely apologize if I have offended anyone by misspeaking. I know Hoscos is not perfect, I appreciate the feedback. Help me do Hoscos wider! Help me do Hoscos more human." The account then added: "I will not allow my life gets threatened" to imply that there had been death threats in the wake of the initial comments.
The comment section lit up. "Damage is done this is tokenism and a sad pathetic attempt at placating," one user wrote. "Not only is Hoscos out of line, it's blind to actual beauty," another wrote. "I'm ashamed to share the same community with people like you. And to then post a photo of a beautiful man you formerly "didn't love" as a token of your apology. Lord. Go away," another user added.
Some commenters brought forward receipts from past discriminatory practices by the Hoscos account. "My friend called you out for not featuring any black models last year. You blocked him," wrote one user. "You've never posted a non-ethnic post until you were called out for being racist. You're perpetuating the exact things that draws so much misconception of race and it's associated stereotypes in our society," another person commented.
For 27-year-old Dimitri Rojas, a bartender living in Vancouver whose sharing of Stephan's exchange with Hoscos (above) is what made the story go viral several weeks ago, the issue with Hoscos is multifaceted: There's the perpetuation of false beauty standards within the gay community, but also engrained racism.
"If you can't find beauty in anything other than a bearded, white male, with the perfect body, your thought process is the construct of centuries of racism that has led you to believe features associated with a specific race are superior to another," Rojas said in an interview with Mic. "I've been tippy-toeing around how to properly articulate this, but I believe people who identify as 'white' need to take the position of an ally and recognize that complacency in regards to the mistreatment of POC ultimately equates to racism."
From 27-year-old house manager Forrest Wu's perspective, the outlets that we allow to define what is beautiful were never designed for bodies of color in the first place. "I wonder if our interest in inclusion or finding a foothold in these inherently white designs ultimately only bolsters whiteness as a rubric for validity or beauty or validation," Wu said in an interview with Mic.
Wu, who has been outspoken about his relationship with race and sexuality in the past, has a suggestion for marginalized communities: "Build your own table, so to speak — with seats for those who challenge tired assumptions of desirability."
For Puerto Rican celebrity hairstylist David Lopez, 32, the issue is a bit more complicated. "Hoscos initially felt like the 'mecca' of gay Instagram," Lopez said in an interview with Mic. "As the years wore on I noticed a certain aesthetic on their page. A very white one. As a man of color I didn't like being shown the images of white, muscular, traditionally masculine men and the feelings of inadequacy that came along with viewing them so I unfollowed over a year ago."
However, Lopez was unwittingly roped into the conversation when Hoscos used an image of Lopez in bed with his partner weeks after their public apology. How did Lopez feel about that?
"I struggled with wanting to message back and say, 'Please take my photo down, I don't want to be associated with it,' but I also understand that Hoscos still has visibility and an audience," he said. "I think it's important that you get visibility somewhere even if it is in the middle of this big takedown of the problematic behaviors within the gay community."
And thus a large conundrum: a desire to push back at those perpetuating a singular beauty standard, while perhaps also feeling a sense of affirmation in being among those deemed worthy of being a part of it. Race isn't the only thing at play in this problem. Often regardless of ethnicity, gay men with muscled bodies are often the gold standard when it comes to what's beautiful.
A 2011 study which analyzed male images featured in magazines targeted to gay men found that the images consistently had low levels of body fat and high levels of muscles. This discovery was only amplified throughout the 40 years the study took place showing how little was being done to dismantle this reality. "No fats, no femmes, no Asians" has even become a ubiquitous, if not normalized, catchphrase on gay hook-up apps — even spawning mock merchandise.
And while listicles have been written about "beautiful men of color who scorched Instagram" and plenty of accounts have popped up helping to bolster black queer love, thicker men, men of size, plus-size men (the lack of agreed upon term should be telling about the community's lack of centralization) of any race remain largely absent. In fact, Hoscos' course-correcting to include men of color (albeit mostly Asian men), did not address Stephan's other concern about the pervasiveness of strictly muscled bodies.
Troy Solomon, a 28-year-old plus-size model, says the pressure placed on gay men to adhere to certain beauty standards is heightened in comparison to the straight world, noting the hypocrisy of disclusion within an already marginalized community.
"The scariest part about it all is that [Hoscos] has a lot of followers, and it shows how easy it is to not hate specific groups of people, but just completely erase them altogether," Solomon said in a interview. "It's been over a month since Hoscos was called out and he chose to only 'correct' one side of that call out — that should be enough for people to decide on their own if this is someone worth giving power to. Put it this way, I'm not following him."
So how do people create systemic change within a community accustomed to rapid advancement? For guys like Rojas, the imperative is less on Hoscos and more on those engaging with the account — or perhaps more accurately, those actively not. "Instagram is a beautiful thing in the sense that it shifts influence away from industries and corporations that have set these false standards and back into the hands of society," Rojas said. "It's up to us to decide if we want to continue to support the things we've been taught or if we want to redefine the definition of beauty."