Vice Media puts 2 top executives on leave following sexual harassment allegations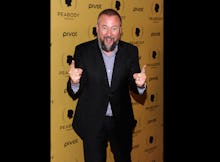 Vice Media announced on Tuesday that it has put its president and its chief digital officer on leave, and said that it would again review claims of sexual harassment made against the men that were first made public in a Dec. 23 New York Times article about the company's handling of sexual harassment.
In a memo to staff Tuesday, Vice's chief financial officer and chief operating officer Sarah Broderick said that Andrew Creighton, the company's president, and Matt Germano, Vice Media's chief digital officer, would be on leave pending the completion of reviews into their conduct.
Creighton, according to the Times article, paid $135,000 in a settlement to a former employee after she accused him of firing her for rejecting his advances. Two women accused Germano, who is also the CEO of Vice-owned digital agency Carrot, of sexually harassing them at work events.
In the memo, which was obtained by Mic, Broderick defended the company's handling of the claims made against Creighton and the ensuing settlement, and said that it was Creighton who suggested he go on leave.
"At the time the situation was reviewed by an independent law firm and the claim was found to lack merit, but the Company agreed to settle the matter in order to avoid the expense and distraction of litigation," Broderick wrote in the memo. "As we said last week, there are details in the story that Vice believes were incomplete or misrepresented."
Allegations made against Creighton will be reviewed by a special committee of Vice Media's board, Broderick said, which will then make a recommendation to senior management prior to a board meeting scheduled for Jan. 11. Claims made against Germano will be investigated by Vice Media's human resources team with help from an internal investigator, Broderick said in the memo.
The Times was first to report that Creighton and Germano would be put on leave. A Vice Media spokesperson said on Tuesday that the company had no further comment.
Vice and its handling of sexual harassment allegations have been under scrutiny following the publication of a Times exposé that revealed a number of instances of sexual harassment from current and former employees, as well as a number of sexual harassment claims settled by the company. Following the publication of the article, some current and former employees expressed dismay that people accused of sexual harassment in the article remained at the company.
A collective of Vice U.K. employees last week published a letter demanding the company take action against staffers who were "found to have participated in abusive practices," and launch a widespread internal investigation. The letter, which was published to Medium, mentioned Creighton specifically.
"We are unsure how he is being allowed to remain at the top of the company," the letter read.
Some current and former Vice staffers who spoke to Mic also called for Creighton to leave the company. "He's got to go," one Vice employee, who requested that their name not be used in order to protect their job, said on Saturday.
In Tuesday's memo, there was no mention of a internal investigation requested by U.K. staff members. Broderick did outline the details about mandatory sexual harassment training that full-time employees will have to complete by the end of February. Freelancers for Vice Media will also be required to undergo sexual harassment training, Broderick said.
Vice Media is also rolling out a number of initiatives to improve diversity at the company, including a diversity and inclusion board. The company is also, Broderick said, committing to reaching pay parity between men and women by the end of the year, and equal representation of men and women "at every level across the organization" by 2020.
Some of that information, including pay parity and the establishment of the diversity and inclusion board, were first detailed in a memo to staff that Vice co-founders Shane Smith and Suroosh Alvi sent to staff immediately prior to the Times' publication of its report on the company.
Broderick's full memo to Vice staff is below:
VICE,
It is a new year. And a new year is a time for change – no more so than here at VICE. I wanted to reach out on the first day back from the holidays to make sure there are no misunderstandings about the way in which we are moving forward to change our workplace culture and ensure all our employees feel respected and supported.
A NEW GLOBAL HUMAN RESOURCES MANDATE
In October, we began taking additional steps to put in place a more progressive, safe, inclusive, and empowering workplace that values every single employee. The immediate first step was hiring a new head of HR. Our need to make changes and to invest in HR is clear, and your voices on this have been heard. Susan Tohyama joined us in November as the new global head of HR and we have committed to providing Susan the resources and support she needs. I hope that you will give her the continued opportunity to build the HR organization that VICE deserves.
Susan, along with her local HR teams, will continue to communicate all new HR initiatives as we work to transform our workplace culture in 2018 - focusing on building an inclusive, diverse, progressive environment where all employees can develop and thrive.
MANDATORY HARASSMENT TRAINING
Importantly, this week there will be an announcement from Susan requiring all those who work at VICE, both full-time and freelance, to participate in mandatory sexual harassment training. The trainings will be provided by professional third-party firms and will start later this month. Every employee in every office will be trained, but we expect to get through the US, UK, and Canada by the end of February. These trainings are to ensure awareness and understanding of VICE's commitment to a workplace that promotes equal employment opportunities and is free of discrimination and inappropriate conduct. The note will also be reiterating the numerous ways in which concerns can be reported and how those concerns will be investigated. This applies to all who work at VICE – both full-time and freelance.
MARSHA COOKE & COMMUNITY
I want to warmly welcome Marsha Cooke, who will start later this month in Brooklyn as SVP of Content Strategy. In addition to Marsha's primary role to oversee the build out of VICE's content & talent development strategy, she will be leading the effort to drive social consciousness and diversity across our content, and help lead VICE's Community initiatives, which include but aren't limited to actions around gender, affinity groups, mentoring, and community partnerships. As I have travelled around over the last couple of months, many of you have voiced your willingness to lead these efforts. In the UK, Canada and other offices, many employee councils have been set up and improvements have already been realized.
We are taking you up on your offers to lead. To start, Charlotte Payne, along with Katherine Chandler and Ellie Lancaster-Smith will be leading the efforts in the UK. In Canada, Lana Van Brunt and Carly Gray have been spearheading Women@VICE and efforts are already under way to start a Diversity & Inclusion employee council.
In the US, I have asked Sarah Harrison, John Kolbeck, Lindsey Favious, Gianna Toboni, Sara Rodriguez, Lauren Dolgen, Catherine Whythe, Josh Cogswell, Ricki Askin, Krystle Watler, Hana Ballout, Arielle Duhaime-Ross, Natalie Farrey, Dory Carr-Harris, Lindsey Schrupp, Lauren Cynamon, Genel Ambrose and Annie Augustine to form an organizing committee to help coordinate the initial meet-ups around the areas of Mentoring, Gender, Affinity groups and community partnerships. These leaders in the US will be reaching out to the many of you who have expressed interest over the next couple weeks to get you involved, seek your input, organize the ideas have accumulated and to create momentum until Marsha starts officially. We will be asking for leaders in the other countries and offices as well. I promise you will hear more shortly. If you are interested in becoming more involved, you can sign up here. I expect these employee-led efforts in all of our offices to provide another influential forum for employees to have a stronger voice in the cultural changes we are making.
DIVERSITY & INCLUSION BOARD
You have asked for clarity about its role. Robbie and I will follow up later this week with a separate note on how the D&I board will intersect with the employee led community initiatives above as well as the various forums where employees can interact with the board. It is an important clarification and deserves its own note.
ORGANIZATION
Let's be frank - we need more women and diversity throughout the organization. This is fundamental to VICE's ability to connect with its audience and is a strategic priority and a competitive advantage we hold – it is not just an internal initiative.
The Company is making visible changes to its leadership and more will be announced over the next couple of months. The make-up of the VICE board has been changed – some long-standing employees have been replaces with new faces and fresh perspectives. We have added and will continue to add women and people of diverse backgrounds to our ranks; across the entire organization including content, marketing and sales. Changing an organization takes time and doesn't happen over night. VICE has committed to 50/50 male/female at every level across the organization by 2020 and pay parity by the end of 2018. These changes are part of a broader effort to put in place a leadership structure to take VICE forward, and to train a new generation of managers and leaders.
FOLLOW-UP ON SPECIFIC EMPLOYEES
I want to address specifically what VICE is doing in response to the allegations about various individuals named in the NYT story. As I'm sure many of you are aware, only two of the individuals named are still employed at VICE.
The claims regarding Carrot's current CEO Mike Germano will be investigated by HR with an external investigator, a process that Mike has encouraged, and Mike will be on leave until the investigation is concluded. In the meantime, day-to-day operations of Carrot will still be led by Adam Katzenback, reporting to Ryan Mack. Together, they will be ensuring that the agency services businesses of VICE continue to be best positioned in the market. Expect next steps and further communication from them shortly.
Regarding Andrew Creighton, at the time the situation was reviewed by an independent law firm and the claim was found to lack merit, but the Company agreed to settle the matter in order to avoid the expense and distraction of litigation. As we said last week, there are details in the story that VICE believes were incomplete or misrepresented. As a further step, however, a special committee of VICE's board is reviewing the facts and will make a recommendation to Sr. Management prior to the January 11th board meeting. In the meantime, Andrew has suggested, and we agree, that he remain out of the office on leave until the recommendation from the committee is made to Sr. management.
***********
After the board meeting on January 11th we will have an update on the additional work we've been doing to align our organizational structure under some new leadership and to set us up for 2018 with a mission to become the world's most important media company where everyone wants to work.
The new year represents a new era for VICE. I know that working together, we can all have a very happy, healthy, and successful 2018. As always, please reach out with any concerns or questions.
--
SARAH BRODERICK
COO/CFO