Utah Sen. Orrin Hatch will retire after 2018, putting spotlight on Mitt Romney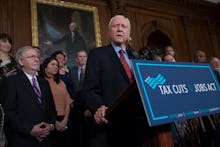 Sen. Orrin Hatch (R-Utah) announced Tuesday he won't seek re-election, an exit that could clear the way for Mitt Romney to take over his seat.
President Donald Trump had hoped Hatch — the longest-serving Republican senator — would run for re-election in 2018 in order to block Romney from joining the Senate. Romney had reportedly told friends that he would run for Senate in Utah if Hatch retired, the Atlantic reported.
However Hatch, 83, didn't heed Trump's call, announcing in a video posted Tuesday that he would leave the Senate when his term expires.
"For over 40 years I've had the great honor of serving as your senator," Hatch said in the video, in which he touted his accomplishments.
"But every good fighter knows when to hang up the gloves. And for me, that time is soon approaching. That's why, after much prayer and discussion with family and friends, I've decided to retire at the end of this term."
While Trump wanted Hatch to run for re-election, back at home in Utah, newspaper editorial boards were calling on Hatch to quit.
The Salt Lake Tribune wrote an editorial on Dec. 25 sarcastically naming Hatch "Utahn of the Year" for his "utter lack of integrity that rises from his unquenchable thirst for power."
Hatch seemed to not read the editorial past the headline, thanking the paper in a tweet for the "great Christmas honor."
Other Republicans were also mocking Hatch for lavishing praise on Trump during a ceremony at the White House celebrating congressional Republicans' passage of the tax bill.
"Mr. President, I have to say that you're living up to everything I thought you would," Hatch said at the ceremony in December.
Hatch went on to call Trump "one heck of a leader" who was in the midst of "the greatest presidency we have seen not only in generations but maybe ever."
While Trump underperformed in Utah, winning the state with 45% of the vote, it's unlikely a Democrat could win there against Romney.
Romney, a practicing Mormon, carried the majority-Mormon state with 73% of the vote when he unsuccessfully ran for president in 2012.
If Romney — one of the top Trump critics among Republicans — runs and wins, he'd have a big platform from which to criticize Trump.