Here are the cheapest days to travel in 2018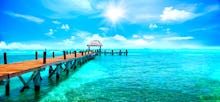 Looking for affordable flights this year? There are tons of theories on how to get the best possible deal. From using an incognito browser to thinking Tuesday is the cheapest day to buy (it's not), most of these strategies are mere myths, and won't save you extra cash.
But according to new data from airfare comparison site Kayak, there are real answers to the question: When are the cheapest days to fly?
Kayak examined over 1.5 billion searches from 2017 in order to predict the cheapest days to fly domestic or international. These reflect big trends, so they won't always indicate the cheapest travel date for every possible destination Americans are eying.
"The supply and demand is really what drives a lot of this," David Solomito, vice president of North America marketing at Kayak, said in a phone interview. "The times when people most want to travel, when things are most convenient, it's more expensive." He noted that the most expensive day to fly was Dec. 26, the day after Christmas, and the cheapest month was January, when most people have used up their vacation days and they're back at work.
For people set on going abroad in 2018, Solomito noted that the absolute cheapest day to fly internationally will be March 19. Bon voyage!
Here are the cheapest day to fly in 2018:
January
Domestic: Jan. 31
International: Jan. 19
February
Domestic: Feb. 7
International: Feb. 3, 21
March
Domestic: March 7
International: March 19
April
Domestic: April 29
International: April 27
May
Domestic: May 2
International: May 4
June
Domestic: June 3
International: June 2
July
Domestic: July 4, 18
International: July 31
August
Domestic: Aug. 29
International: Aug. 21
September
Domestic: Sept. 26
International: Sept. 25
October
Domestic: Oct. 31
International: Oct. 29
November
Domestic: Nov. 30
International: Nov. 11
December
Domestic: Dec. 10
International: Dec. 2