What it's like to stay at the first weed-inspired "bud-and-breakfast" in America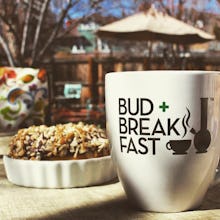 Would I walk into a cloud of smoke? Would someone hand me a giant bong? Would there be a welcome bag full of marijuana sitting on my pillow? When I rang the doorbell at Adagio Bud and Breakfast in Denver, I wasn't quite sure what to expect. I anticipated that staying at something called a "bud-and-breakfast" might be like crashing with a college-aged weed dealer, with clouds of smoke and the skunky smell of old marijuana everywhere.
Adagio Bud and Breakfast officially opened its doors on April 10, 2014, making it, according to its owners, the first marijuana-focused bed-and-breakfast in the United States. The B&B has six suites, with rooms starting at $299 a night. Guests can enjoy pot-friendly activities such as a "Wake and Bake Breakfast," "4:20 Happy Hour" and "Unlimited Munchies." When I found the unusual bed-and-breakfast in a Google search for lodging in Denver, it seemed like something I absolutely needed to see firsthand.
Contrary to everything I had expected, the B&B is in a quaint Victorian home on a residential street where people walk their dogs and kids with backpacks head to school.
Before it was a bud-and-breakfast, Adagio was a run-of-the-mill bed-and-breakfast — I almost felt like I'd stepped into my grandmother's house. While the new version is the most pot-friendly spot in town, the decor from its previous life remains.
My host, a woman in her mid-twenties, offered a short tour of the space, pointing out the kitchen where meals are served and the massive outdoor patio, as well as a living room with a number of plush couches and a television. A glass china cabinet housed a massive water pipe and several other smoking options rather than china and silver. Coffee tables adjacent to the comfy couches were adorned with vaping devices — and instructions on how to use them. Against a wall, a side table was full of what must have been over 100 pipes — ambitious for the six-room B&B.
My host explained I was free to use any of the smoking devices in my room or out on the town. Pipes are cleaned daily, so everything in the drawers and within the house is sanitized and ready to go. She said she would be happy to walk me through any of the pipes or vaporizers I wasn't familiar with.
Hosts are on hand to help guests who don't know how to select different strains of weed, how to choose edibles or how to use the high-tech smoking paraphernalia. Colorado visitors can go on pot-focused tours, receive cannabis-infused massages and get recommendations from their own "budtender" on what kind of weed might be right for them. If you're a guest at Adagio, the owners will even organize all that for you.
A full-time chef prepares breakfast and snacks like pizza, chips and bean dip for 4:20 Happy Hour. There's also complimentary beer and wine, and always snacks and leftovers from previous meals in the fridge.
"We're not a stoner house."
I grabbed a pipe and went upstairs to my room, a large but cozy space with one full bed, a bathroom and another, small room with a couch large enough for another guest to sleep on. Surprisingly, the living room and my bedroom didn't smell at all like marijuana.
"We're not a stoner house," Joel Schenider, one of the owners, told me, commenting that's what many people presume. "Our vision and what we're trying to accomplish is a high-end experience for our guests."
Schneider, who runs the B&B with his wife, Lisa, came up with idea after a business trip to Denver where he was forced to hide the fact he was smoking in his hotel.
"As soon as the law changed, I rushed out here to find a business," Schneider said, explaining he was excited to have the bed-and-breakfast up and running before the first "4/20," or April 20 — a holiday celebrated by cannabis-users — once recreational marijuana was legal. Lisa, he said, does not use marijuana.
Adagio is one of many businesses in Colorado cashing in on the state's so-called "green rush," — the big business of recreational cannabis which has investors scrambling to capitalize on marijuana-friendly tourism. The Schneiders told me that their six-suite inn averages an 85% occupancy rate. Guests, who have to be over 21 years old, have come from places like Saudi Arabia, Malaysia, the United Kingdom and Australia, though Lisa noted that there's a significant number of guests from Texas. She said the average occupant age is between 35 and 55, though she's also had guests in their 70s and 80s.
The B&B has hosted a full spectrum of individuals, including a number of retired law enforcement officers —  the same men and women who might have arrested someone for smoking marijuana before 2014.
"People come here and say this is the greatest vacation they've ever been on," she said. "It's a whole new experience."
One thing I didn't find in the B&B: actual marijuana. Adagio used to partner with local dispensaries to offer a "bud bar" that offered three strains for breakfast and three for 4:20 Happy Hour, to promote the "sharing" nature of cannabis. But the city of Denver served them a citation for distribution, and so that feature went away.
I was only staying a few days and had arrived with my own provisions, but there's a dispensary right around the corner for guests who don't come prepared. At check-in, guests receive coupons to a few local spots — and based on my experience, there's always someone (or several someones) around willing to share their own stash.
While other hotels in Denver allow guests to use marijuana in their rooms, hotel lobbies are considered public spaces, which means guests can't smoke in those communal areas. A few hotels in the area allow the use of vaporizers in rooms, but smoking alone is somewhat contrary to the social "puff and pass" nature of how many like to enjoy cannabis.
Though the Adagio touts its "Wake and Bake" breakfast, that meal was one place I didn't see people smoking. As it turns out, your average pothead isn't quite as early a riser as I am — I came downstairs around 8 a.m. — so I puffed my vaporizer between bites of frittata. It was delicious.