Trump's wild day of tweets all seemed to come from segments he watched on Fox News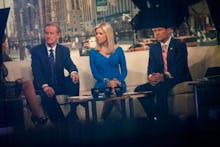 President Donald Trump went on a Twitter bender on Tuesday, using the social media site to taunt Kim Jong Un about the size of the U.S. "nuclear button," call for the Department of Justice to jail a former Hillary Clinton aide and make a false claim to have been the reason there were no commercial airline deaths in 2017, among other wild tweets.
And almost every wild tweet he sent aligns perfectly with a segment that had just been aired on Fox News, according to journalist Daniel Dale, suggesting Trump was watching the conservative news channel for a few hours when he started his day and a few hours to end it.
First came Trump's tweet on former Clinton aide Huma Abedin, whom Republicans have seized on after a conservative organization filed a lawsuit against Abedin over the Clinton email server.
"Crooked Hillary Clinton's top aide, Huma Abedin, has been accused of disregarding basic security protocols," Trump tweeted. "She put Classified Passwords into the hands of foreign agents. Remember sailors pictures on submarine? Jail! Deep State Justice Dept. must finally act? Also on Comey and others."
Roughly an hour later, Trump tweeted about an appearance by a member of the National Border Patrol Council who went on Fox & Friends to speak about border issues.
"Thank you to Brandon Judd of the National Border Patrol Council for your kind words on how well we are doing at the Border," Trump tweeted. "We will be bringing in more and more of your great folks and will build the desperately needed WALL! @foxandfriends."
At around 8 p.m., Trump tweeted a call for Americans to watch Fox News host and Trump supporter Sean Hannity's show — a tweet he went on to delete.
Then came Trump's concerning tweet about North Korean leader Kim Jong Un, who warned the U.S. that he has a nuclear button "always on the desk in my office."
"North Korean Leader Kim Jong Un just stated that the 'Nuclear Button is on his desk at all times.'" Trump tweeted. "Will someone from his depleted and food-starved regime please inform him that I too have a Nuclear Button, but it is a much bigger and more powerful one than his, and my Button works!"
That tweet came after a Fox News segment highlighting Kim's "nuclear button" comment.
Trump went on to finish his night tweeting a quote from Fox Business Network host and Trump supporter Lou Dobbs' show.
"'President Trump has something now he didn't have a year ago, that is a set of accomplishments that nobody can deny. The accomplishments are there, look at his record, he has had a very significant first year,' @LouDobbs Show, David Asman and Ed Rollins," Trump tweeted.
So much for Trump's claim to not have time to watch TV — which Mic has deemed one of Trump's biggest lies of 2017.