A reality check on whether a Sen. Mitt Romney would stymie Donald Trump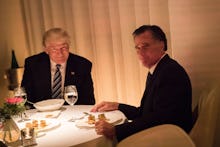 Welcome to Mic's daily read on Donald Trump's America. Want to receive this as a daily email in your inbox? Subscribe here.
Wednesday's dispatch: Would a Sen. Romney truly stymie Trump?
Regardless of how Republicans fare in the 2018 elections, President Donald Trump can count out two of his biggest GOP critics — Sens. Jeff Flake (R-Ariz.) and Bob Corker (R-Tenn.). The two are not seeking re-election, so will no longer be causing trouble for Trump on Capitol Hill.
Meanwhile, speculation is swirling that former Republican presidential nominee Mitt Romney will run for Sen. Orrin Hatch's seat in Utah. It's believed that if he were to run, Romney would likely cruise to victory. Romney has been a critic of Trump for years, going back to 2015 when Trump first announced his presidential bid.
Romney called Trump a "phony" in a March 2016 speech where he encouraged Republican voters to back Ohio Gov. John Kasich or Texas Sen. Ted Cruz for the presidency. Since then, Romney has implicitly and explicitly criticized Trump's most controversial decisions, like when he supported Alabama GOP Senate candidate Roy Moore, or equivocated white supremacists and counterprotesters in Charlottesville, Virginia.
Romney would be positioned to assume the anti-Trump mantle, to a degree. But when it comes to policy that impacts Americans, the former Massachusetts governor would likely support Trump's agenda.
Corker and Flake, for all their criticism of Trump, were largely reliable supporters of Trump's 2017 agenda. Both repeatedly supported failed Affordable Care Act repeal efforts, and voted for the GOP tax plan. Corker even said he would vote "no" — then controversially changed his vote without having his concerns addressed.
Romney would likely be no different if he were to make it to the Hill. In 2012, he proposed cutting the corporate tax rate from 35% to 25%. The recently passed GOP tax plan cut the rate to 20%, the consensus figure among Republicans after months of internal debate. Romney stood behind a podium during his 2012 presidential campaign and said he would "repeal and replace Obamacare," one of the earliest and most high-profile uses of the now-standard GOP slogan.
Furthermore, Romney has criticized Trump as a private citizen, not as a pro-business Republican senator from a deep red state. That criticism has come after some of Trump's most controversial actions were widely rejected by many Republicans — including Hatch, who has not supported Trump's most controversial statements, but praises him overall.
In 2017, Trump and Republicans implemented policies and pushed through appointees that made for a substantial year of reshaping the direction in which the United States is headed. The GOP agenda remains highly unpopular, raising concerns for Republicans that they could see major electoral losses in 2018.
Romney may become the next member prominent senator to criticize Trump, but he likely wouldn't be very different in terms of voting. And his election in Utah would be far from a surprise in what will be a tumultuous election year.
Today's question: How important do you think Romney's election would be to the Senate?
Please email us at trumpsamerica@mic.com with your thoughts.
Wednesday in Trump's America:
Shutdown negotiations: House and Senate leaders are meeting with Trump on Wednesday to discuss how to avert a government shutdown. Democrats are being more staunch in their demands that the deal to fund the government past Jan. 19 includes protections for recipients of the Deferred Action for Childhood Arrivals program. The Democrats also want higher domestic spending.
A top Trump adviser said Tuesday the president will demand border wall funding in exchange for those protections — which Democrats will not support — in a move to please his base. Democratic votes will be needed in the Senate, and maybe the House, to keep the government open.
Trump tweets: The president tweeted Tuesday evening that he will announce the "most dishonest and corrupt media awards" at 5 p.m. Monday. Mark your calendars.
Trump also said he has a "much bigger and more powerful" nuclear button than North Korean leader Kim Jong Un, who had bragged in his new year's address of having a nuclear button on his desk.
North Korea: Despite the aggressive tweeting, North Korea has reopened a cross-border hotline with South Korea after two years. The move signals the two countries may begin serious talks.
Two women: Today on NBC is now hosted by two women. Hoda Kotb joined Savannah Guthrie on Tuesday as a permanent co-host following the firing of longtime host Matt Lauer over sexual assault allegations.
Sexual harassment: Vice Media placed two of its top executives on leave following reports they sexually harassed employees.
Israel: Trump threatened to cut off $300 million in annual funding the United States provides to the Palestinian Authority following criticism of Trump's decision to recognize Jerusalem as the Israeli capital. Palestinians responded that they are "not for sale."
Fewer international students: Students from around the world are coming to universities in the United States in smaller numbers, driving academic cuts, in part because of tighter U.S. immigration policies.
Another GOP resignation: Rep. Bill Shuster (R-Pa.) will not seek re-election. Trump carried his district by 42 points in 2016.
Sanctuary cities: The acting director of Immigration and Customs Enforcement said politicians who support sanctuary city policies should be charged with crimes.
Today's MicBite:
Trump's tweeting about launching a nuclear weapon has renewed calls for his impeachment. But it's important to remember why that's so unlikely. Mic's Emily Singer breaks it down. Click or tap below to check it out.