How cities are bypassing states to explore registering hundreds of thousands to vote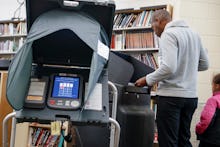 States govern American elections. Officials there certify election results. They decide when and how people can vote. They influence who can cast a ballot.
Since Republicans in 2010 began their march toward control of the legislature and governor's office in 26 states, voting rights advocates and Democrats say the state-by-state election system has led voter suppression efforts to run rampant. Since 2010, 23 states have passed laws that make it more difficult to vote, according to the Brennan Center for Justice.
To bypass state officials and respond to voter suppression bills, some local elected officials and activists are advancing laws in cities and counties nationwide that would increase voter registration. These local reforms can be stunningly simple — just registering people to vote in high schools and city government offices could add millions of voters if taken up by large cities across the country, voting rights advocates say.
"It's not their burden, it's their opportunity," Phil Keisling, a former Oregon secretary of state who runs the Center for Public Service at Portland State University, told Mic of localities expanding voting rights. "Even if we can't change state policies, particularly in these red states ... there's still many things you can do at the local level."
The local reforms largely focus on registering younger and minority voters. Nationwide, only 26% of white eligible voters are not registered, according to U.S. Census data. More than 42% of Latinos are not registered to vote and 43% of Asians. Nearly 31% of blacks are unregistered. Those communities typically turn out for Democrats. In 2016, 66% of Latinos and 88% of blacks voted for Hillary Clinton.
In Texas, for example, census data shows about 45% of eligible Latinos are not registered. Latinos make up about 39% of the state's population. Only 27% of white eligible voters are unregistered.
The census data is the best available to estimate overall voter registration, though some voting experts caution it may be inaccurate because of how it is collected. But there's agreement that tens of millions of people nationwide are not registered to vote, with those who are unregistered more likely to be younger or minorities who are not being served effectively by existing registration systems.
"Most Americans are not political animals and therefore do not spend a lot of time thinking about voter registration," Sean McElwee, a policy analyst focused on voting rights, said in an interview. "And most don't engage in the election really heavily until the last few weeks of a campaign, in which case in many states they will have already missed the registration deadline."
In Arizona, Texas and Virginia, groups at the city and county levels have implemented or are pushing for reforms that could lead to hundreds of thousands new voter registrations. This bypasses state elected officials who are traditionally considered arbiters of election law.
In Fairfax County, Virginia, the state's largest county, a local coalition pushed leaders to implement online voter registration at county agencies in 2016.
Some efforts can go beyond the public sector. In Madison, Wisconsin, and East Lansing, Michigan, local laws now require landlords to provide renters with a voter registration form.
And local reforms can have sweeping impacts at the city level. Organizers in Phoenix, a city of 1.6 million people, are pushing to add every registered voter in the city to the permanent early voting list. That would make every registered city voter eligible to receive a ballot in the mail. Organizers also want Phoenix to offer voter registration at all city offices.
National groups, in search of voting rights laws that could be pursued in Republican-controlled states, have taken notice of the potential for city-by-city reforms. The Center for Popular Democracy, a national progressive group connected to advocacy organizations in 38 states, issued a report Friday geared toward educating potential partners on what voting reforms cities can pursue.
First shared with Mic, the report shows how local reforms in five states — Arizona, Florida, Ohio, Texas and Wisconsin — could add hundreds of thousands of voters to the rolls through the efforts of city officials and school boards. For example, hundreds of thousands of people could be registered in public agencies across four cities in Texas, and tens of thousands of high school students could be registered annually in Florida, the report found.
Registering voters has been a focus of local organizers for decades. And a few cities, notably New York, have worked for years to pioneer voter registration solutions at the local level.
But lobbying local leaders to make it easier for city and county residents to register to vote is a relatively new push, one gaining steam following the 2016 presidential election as activists became tired of waiting for opportunities to reverse state-level voter suppression laws.
Voting rights advocates say, so far, their biggest impediment to change is not a lack of support — it's that many local elected officials do not know they can have an impact on voting rights.
"Local elected [officials] need to see themselves as democracy champions and as champions for their voters," Emma Greenman, director of voting rights and democracy at the Center for Popular Democracy and co-author of the report, said in an interview.
Some voting rights advocates told Mic they hope to eventually see the implementation of automatic voter registration where every citizen would be able to opt-out of casting a ballot. Because that requires state action, cities have sought innovative ways to push toward that goal.
In the early 2000s, New York City began registering voters at public agencies. New energy was breathed into that program when Mayor Bill de Blasio took office in 2014. Last month, the city began implementing online voter registration. Residents can fill out a registration form online and the city will deliver a printed version to the board of elections to comply with state law.
"If Florida comes to us and says, 'What are you doing?' [we'll say], 'Your tech people [should] talk to our tech people, we'll show you what we got," Henry Berger, adviser to Mayor de Blasio, said in an interview. "Our model is very simple. Once it is set up, we could write four more lines of code ... and it's an easily transferable model to set up."
This willingness to share ideas between cities is fueling innovation. St. Louis Alderwoman Megan Ellyia Green said she took interest in increasing voter rights after Missouri passed a voter ID law in 2016.
Green plans to introduce a law that would require St. Louis landlords to give people voter registration forms, and is reaching out to leaders in Columbia and Kansas City to advance the change across Missouri's largest cities.
"We're having to start to figure out what we can do at a local level to make sure these restrictive voter ID laws don't end up suppressing the vote," Green said.
In Phoenix, backlash to a 2010 law that require immigrants to carry documentation led to the creation of Living United for Change in Arizona, or LUCHA. The group has become the state's largest non-union, member-led organizing force, Alejandra Gomez, LUCHA's executive director, said in an interview.
Growing the political power of minorities in Arizona is a proactive, natural step for LUCHA, Gomez said, as her organization pressures local officials to increase the ease of registration and voting.
Her group is already working with local renters associations to distribute voter registration forms in apartment complexes. And LUCHA regularly registers students in the 27,000 student, high-school only Phoenix Union High School district with the approval of the school board.
"Organizing matters within our communities because no one from these political parties is going out and registering our communities to vote," Gomez said. "It's our responsibility to continue building political power in our communities."
While some voting rights advocates argue these reforms should not be partisan, they admit there is a clear motivation for Democrats to support these proposals. And at the city level, there are Democratic mayors in 63 of America's 100 largest cities — including in states held by Republicans.
Greenman argues polling numbers for and passage of minimum wage increases, Medicaid expansion, criminal justice reform and more as ballot initiatives show progressive policies are winning. But gerrymandering and voter suppression have prevented those gains from translating into electing Democratic candidates.
"If we learn anything from the last eight or 10 years, places where we haven't focused on growing local bases, we have lost," Greenman said. "Voters voices are not being heard.
"Mayors, school board members and county commissioners can take the initiative ... so that all of our citizens can participate."