Spotify is being sued for $1.6 billion. Here's what that could mean for you.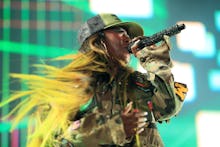 Hear that? No, no, it's not your frantic clicks to queue up Carly Rae Jepsen's Emotion: Side B for the fourth time today — it's the sound of Spotify getting hit with another massive lawsuit. Yet again, Spotify faces allegations from a company representing A-list artists that the streaming service hasn't been properly licensing their music.
In the last year or so, Spotify has faced a handful of similar lawsuits, including one in May, in which it agreed to pay a $43 million settlement. Verdicts in several other lawsuits along the same lines in Nashville have yet to be reached.
This time around, though, the allegations come from Wixen Music Publishing, which handles licensing for songs by artists like Missy Elliott, Tom Petty, Stevie Nicks and others. In the $1.6 billion lawsuit filed against Spotify in late December, Wixen alleges that the music-streaming behemoth failed to obtain the proper licensing for at least 10,000 songs on its platform, according to a Variety report published Tuesday.
Wixen is seeking $150,000 for each of these songs — the maximum it can ask for under current copyright law — which is how that massive $1.6 billion figure came about.
Of course, just because that's what Wixen asked for doesn't mean that's what Spotify will eventually end up paying. The lawsuit Wixen filed is just the first step. But for those of you thinking this might all just be a corporate kerfuffle happening outside your world, think again. It's entirely possible Spotify could eventually pass the cost of these lawsuits onto consumers.
"You might see increased subscription fees and things like that to make up for the cost [of a potential settlement,]" Cassandra Spangler, a New York City-based entertainment lawyer told Mic in a phone interview Wednesday.
Spotify may also decide to increase fees to offset the costs of obtaining the proper licensing moving forward — something it may have been saving money on by cutting corners up until now, if the allegations in the Wixen's lawsuit prove true.
Of course, until this lawsuit moves forward, this is all purely speculative. And it's not clear exactly how long it'll take for the courts to reach a verdict, but it'll probably take a while.
"These things can potentially draw on for years," Spangler said. "But if you do start to see a backlash from bigger artists, then that's an incentive for Spotify to settle it more quickly, so I think it'll depend on what the reaction is from well-known artists and the industry and things like that."
It's also possible that artists with a lot of sway — such as Taylor Swift, who has been outspoken against Spotify in the past — may threaten to pull their music from the service if they're unhappy with how they're being treated.
In a statement emailed to Mic, Wixen's president, Randall Wixen, said the lawsuit aims to get the artists it represents the money they should've been getting paid all along.
"We estimate that our clients account for somewhere between 1% and 5% of the music these services distribute," Wixen said. "Spotify has more than $3 billion in annual revenue and pays outrageous annual salaries to its executives and millions per month for ultra-luxurious office space in various cities. All we're asking for is for them to reasonably compensate our clients by sharing a miniscule amount of the revenue they take in with the creators of the product they sell."
When reached by Mic, a spokesperson for Spotify declined to comment.