Is the Mueller inquiry sparking Trump's unhinged tweets? Signs point to no — it's actually the media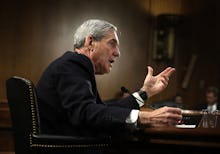 President Donald Trump went on an unhinged, and to many, deeply alarming, Twitter tear on Tuesday, demanding investigations into his political opponents and taunting the unpredictable and possibly nuclear-armed leader of North Korea.
The president's first tweet spree of the new year has led, again, to questions about Trump's mental state and fitness to serve. Some media figures over the past day have also been speculating that the tweets were sparked by impending news out of special counsel Robert Mueller's investigation.
"There's the possibility that something else is going on here," CNN reporter Jeff Zeleny said on CNN Tuesday, pointing to the fact that Trump "knows more about the Russia investigation" than the American public because his lawyers met with Mueller's team over the holidays.
Juliette Kayyem, a CNN analyst, wondered on Twitter what story from the major newspaper outlets was bothering Trump and pushing him to tweet.
But that speculation may not be accurate.
Analysts believe that some of Trump's most incendiary tweets are published when he's seemingly live tweeting what he sees on television — specifically Fox News' morning news program, Fox & Friends.
"I've seen a lot of theories for Trump's tweets, about whether there's some sort of deeper strategizing, or if he's trying to change the subject, and as I've focused on them more, I've come to conclude that that is not right at all," Matthew Gertz, a Media Matters reporter who's been tracking Trump's tweets, said in an interview. "Basically what's happening is he's tweeting about what he's watching on Fox News. And I think that that largely explains why many of these more bizarre tweets tend to come between 6 a.m. and 9 a.m.: He is basically tweeting his favorite show, which is Fox & Friends."
"Basically what's happening is he's tweeting about what he's watching on Fox News."
Historically, the theory that Trump's most off-the-wall tweets are a product of what he sees on Fox News, and not inside knowledge of coming Mueller news, holds water, as evidenced by what the president was tweeting before some of the more explosive news from Mueller's investigation over the past months.
For example, It was first reported on CNN the night of Oct. 27 that Mueller would be issuing his first indictments in his investigation.
Yet Trump's tweets that day were run-of-the mill. He praised House Republicans who had just passed a budget, and even congratulating Fox & Friends on a "great show."
Trump did tweet that morning an incorrect assertion that it was "commonly agreed" that there "was NO collusion between Russia and Trump. Was collusion with HC!"
Yet that tweet, which came hours before CNN's report, appeared to also be from a report Trump saw on Fox News. In that report, host Chris Wallace said on Fox News that "there is more evidence at this point of Democratic collusion with the Russians than there is of Republican collusion with the Russians."
And ahead of Michael Flynn's Dec. 1 guilty plea for lying to the FBI, Trump was also tweeting about things Fox News was reporting, including one segment about how a senior counsel on the House Intelligence Committee was urging Chairman Devin Nunes (R-Calif.) to file contempt charges against the Department of Justice.
"The House of Representatives seeks contempt citations(?) against the JusticeDepartment and the FBI for withholding key documents and an FBI witness which could shed light on surveillance of associates of Donald Trump. Big stuff. Deep State. Give this information NOW!" Trump tweeted on Nov. 29, tagging Fox News at the end of the tweet.
The other tweets on Nov. 30, the day before the Flynn announcement, included anodyne tweets praising the rise in the stock market, as well as an attack on the New York Times, which appeared to come from, you guessed it, a segment on Fox & Friends.
"The Failing @nytimes has totally gone against the Social Media Guidelines that they installed to preserve some credibility after many of their biased reporters went Rogue!" Trump tweeted, tagging Fox & Friends.
The Trump tweets-Fox News theory is especially valid for the most recent spate of inflammatory tweets, in which he called for jailing a former aide to Hillary Clinton and seemed to be trying to bait North Korea's Kim Jong Un into nuclear war.
Those tweets seemed to directly parrot Fox News segments that had aired just prior to his tweets.
"His tweets yesterday morning in particular correspond directly with the Fox coverage that morning," Gertz said. "There are about five tweets in a row that all line up directly with either Fox & Friends or with the Fox program that airs after it."
The Washington Post's Philip Bump has tracked the times Trump was watching Fox & Friends based on what Trump was tweeting.
As of Nov. 29, when Bump posted his study, Trump had tweeted about Fox & Friends 88 times.
Since Bump's study, Trump had tagged Fox & Friends 10 more times in tweets, including one in which he praised the show for being "the most influential show in news."
"I don't know what the president knows about the Mueller investigation," Gertz said. "But I would err on the side of assuming that he has free time on his hands, and he is tweeting what he's watching on Fox & Friends."