Writer Max Landis will not be involved in the 'Bright' sequel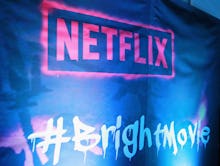 While a sequel to the critically panned Netflix original film Bright will officially see the light of day, the film's original screenwriter, Max Landis, has reportedly been relegated to the shadows in the wake of a series of sexual assault and harassment allegations.
According to Entertainment Weekly, Bright director David Ayer is slated to pen the followup to the recently released fantasy flick; the sequel will reunite star Will Smith as a hardened cop working for the Los Angeles Police Department and Joel Edgerton as his orc sidekick.
Shortly after the first film's release in December, rumors swirled that 32-year-old Landis' mistreatment of women was an "open secret" in Hollywood. In response to a Netflix tweet promoting Bright, Anna Akana, an actress who has worked with Landis in the past, slammed the streaming service's decision to work with the screenwriter, calling him a "psychopath who sexually abused and assaults women."
Akana declined to name Landis outright, but video game designer Zoë Quinn was more explicit in her own string of vitriolic tweets.
"Sometimes men who commit sexual assault are talented screenwriters and their work comes with baggage," she wrote. "Other times, they're Max Landis."
According to Quinn, the Landis family name — Max is the son of famed Animal House director John Landis — is one of the reasons the screenwriter was able to avoid public contempt for as long as he did.
Although he will not contribute to the film's sequel, Netflix did not immediately return a request for comment on whether or not the allegations of misconduct factored into the decision to leave Landis off of the upcoming project.
Since its release on Dec. 22, Bright has become the "highest-viewed Netflix film ever on the service in its first week of release and one of the biggest originals (including sequels/additional seasons) Netflix has ever launched," according to the entertainment streaming service.
Mic reached out to a representative for Landis and we'll update once we hear back.