Venmo account frozen? This might be the weird reason some of your payments got suspended.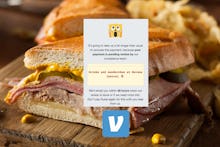 In case you've been living under a rock, the delightful Cuban sandwich is a variation on the traditional ham and cheese — typically adorned with pork, swiss cheese, mustard, and pickles — popularized in Florida neighborhoods home to immigrants from the nearby island nation. They're downright delicious — but weirdly also creating a bit of a problem for payments processors like Venmo in their efforts to avoid running afoul of international trade sanctions.
Just ask Justine, a 22-year-old student from North Carolina who tweets anonymously from the account existentialpink. When trying to pay her partner back for a Cuban sandwich they had shared, Venmo unexpectedly blocked the transaction, she said in a phone interview.
Why? As it turns out, her description of the purchase — "Havana," which she meant to be a reference to the popular song — set off a red flag.
Justine was unable to make payments for about an hour, she said, until she explained her situation to a customer service representative: She was paying for a sandwich — not trying to send money to Cuba in violation of Treasury Department trade sanctions against the communist country. Like other "money services businesses," Venmo is required by law to monitor for and share records on certain transactions because of government regulations.
It was surprising that she had to follow up with Venmo over such a small amount of money, Justine said. "It was $6.37," she said. "I've had purchases flagged for sending a lot of money... when I was renting a vacation home, but I didn't have to explain it."
Venmo confirmed to Mic that customer transactions are sometimes delayed when certain words in payment descriptions trigger regulatory alarms.
"PayPal and Venmo take regulatory and compliance obligations seriously, including U.S. economic and trade sanctions administered by the U.S. Department of the Treasury's Office of Foreign Assets Control (OFAC)," said a company spokesperson in an email. "We realize any delay in making or receiving a payment can be frustrating, and we appreciate our customers' patience as we comply with our regulatory obligations."
It's not the first time someone has run into trouble on the platform due to a sandwich-related purchase.
Former BuzzFeed reporter Matthew Zeitlin wrote about the quirk in December 2016 after he and his colleagues used the payments platform to settle up after a team lunch. In that situation, they described their payment as being for "Cubans," and the transactions were suspended for review. Zeitlin also found other users claiming to run afoul of those algorithms.
In fact, you'll likely run into similar problems if you describe a Venmo payment as being for something related to "Syria," which the U.S. also has trade sanctions against. There can also be confusing inconsistencies.
This reporter, for example, successfully sent money with the description "Cubans" — but a payment labeled "Havana restaurant" triggered a review.
A spokesperson for Venmo clarified that the problem with the Havana payments are likely their ambiguity. The more vague a reference to a sanctioned country is, the more Venmo's algorithm considers it something that should be investigated.
But even more elaborate descriptions Mic entered into the platform, including one that named a specific restaurant in New York City —  "drinks and sandwiches at Havana Central" — still triggered Venmo's review process.
Of course, there are plenty of plausible explanations for why Venmo plays it close to the cuff in terms of how its compliance algorithm works. For one, companies invest lots of money into making sure they are obeying the law and methods of handling any costly activity can be a bit of a trade secret.
Most importantly, if it is made public which terms would be flagged, it could be less effective at catching payments that actually do violate sanctions or other laws, for example people buying or selling drugs or engaging in sex work.
But observers have long worried that Venmo's review algorithms are too heavy handed. Back in in 2014, the company came under fire for allegedly flagging an account that used the name "Ahmed," according to a Valleywag report. And more recently last October, consumer advocates again criticized the company for suspending accounts too arbitrarily, with one attorney telling BuzzFeed the company's policies were "oppressive."
Finally, given the platform's playfulness — its emoji are so popular people have started using the app almost as a social media alternative — it would be helpful for its users to know exactly what words will, and won't get your money stuck in limbo, even if it's only for a little while. The last thing you want is a measly Cuban sandwich throwing off the shiny new budget you've designed for 2018.
Sign up for the Payoff — your weekly crash course on how to live your best financial life.