7 black actresses who'd be perfect for the role of James Bond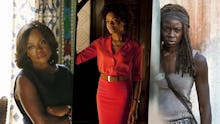 In the nearly 56-year history of the James Bond film franchise, the lead role has only been played by white men. But that may be changing soon, film producer Barbara Broccoli told the Daily Mail in December.
When asked if Bond could one day be black or a woman, she replied, "These films tend to reflect the times, so we always try to push the envelope a little bit. Anything is possible."
Since its inception, seven actors have played Agent 007: Sean Connery, David Niven, George Lazenby, Roger Moore, Timothy Dalton, Pierce Brosnan and, currently, Daniel Craig.
These selections were based on how the character was imagined by Ian Fleming, the creator of Bond and author of the British book series where the character debuted in the 1950s. In 1958, Fleming commissioned an artist to bring the character to life for a Bond comic strip in the London Daily Express; he was white, had short black hair and a grimacing stare.
Bond made it onto the big screen in the 1960s, when white men had the sole privilege of playing powerful, clever spies in blockbuster films. But in 2018, women and black people are now far more visible in these kinds of major studio productions — though there's obviously still room for improvement, and Bond could be part of that progress.
For the past few years, some fans have hoped British actor Idris Elba would succeed Craig. But the speculative casting has caused some controversy: Anthony Horowitz, author of the 2015 James Bond novel Trigger Mortis, called Elba "too street" for the role, a critique that's obviously coded.
If the Bond producers really want to bring this film series into the present, why not imagine a person who is black and a woman as 007 in an upcoming installment? Here are a few picks for the future James — or Jane — Bond.
Kerry Washington
When Olivia Pope stepped on the scene in ABC's Scandal, fans quickly became familiar with her no-nonsense catchphrase: "It's handled." That's exactly the sort of confidence a secret agent needs. And Kerry Washington, who will wrap up her leading role when the series ends in the spring, has been keeping the dirt of D.C.'s most high-profile individuals under wraps for seven seasons. It makes sense she'd follow that by leveling up to another stealthy role like Bond.
Angela Bassett
An O.G. in the acting game, Angela Bassett has proven she's got quite the range. She's delivered memorable comedic performances (Master of None, BoJack Horseman), played emotionally intense roles (see: Bernadine Harris setting her cheating husband's car on fire in Waiting to Exhale) and channeled the idiosyncrasies of famed black women such as Tina Tuner in What's Love Got to Do With It. Bassett always leaves a lasting impression on screen and holds the weight to carry a movie from beginning to end, a quality necessary to play Bond.
Naomie Harris
Naomie Harris has already played a strong female role in the Bond world. In 2012's Skyfall, she's introduced as a gun-toting field agent who turns out to be Miss Moneypenny, a role she continued in 2015's Spectre. Her character marked a significant change for women in the Bond film universe, seeing as she gets involved in the action right alongside 007. She was also the first black woman to play her character, who was previously portrayed by Lois Maxwell, Caroline Bliss and Samantha Bond. If the producers don't want to reimagine James Bond as a black woman, maybe they could make Harris' Moneypenny the center of the franchise.
Sydelle Noel
Another actress on our Bond radar is Sydelle Noel, who tackles the role of wrestler Cherry Bang on the Netflix series Glow, a show about an all-women's wrestling program in 1980s Los Angeles. (She's also set to appear in Marvel's Black Panther in February.) Even though Noel's new to playing the role of a fictional athlete onscreen, she's not new to sports in real life — she's actually a former track and field athlete. With a fitness background already under her belt, Noel has the stamina to stay on the move and perform her best stunts, like a successful 00 agent needs to be.
Danai Gurira
To play Bond, an actress has to give off a sense of cool even in the middle of high-stress moments. Danai Gurira already pulls this off as the fearless survivalist Michonne on AMC's The Walking Dead. Fans will get to see more of Gurira's rebellious spirit in Black Panther, in which she plays Okoye, leader of the Dora Milaje, a group of women who guard the King of Wakanda. Gurira's clearly got this action-franchise thing down, so she's a more-than-worthy candidate.
Aisha Hinds
Aisha Hinds is no stranger to digging into courageous roles, which makes her a strong pick to play Bond. Recently, Hinds faced the challenge of memorizing a 45-page monologue in one week to play one of the most powerful women in history: Harriet Tubman on the WGN America series Underground. She was also the headstrong pastor fighting for social justice on Fox's Shots Fired. And in the new Fox series 9-1-1, she'll be showcasing more bravery as a paramedic and firefighter. Who's to say she couldn't be a trailblazer herself and take on the role of a daring secret agent?
Viola Davis
Viola Davis clearly has a knack for playing characters who are tough and unapologetic. She shines on ABC's How to Get Away With Murder as Annalise Keating, the stern criminal law professor who repeatedly finds herself maneuvering in and out of various schemes that tip-toe the line between moral and immoral. And she reportedly loved channeling her 8-year-old self, who once fought back bullies in school, to tap into the coldness of Amanda Waller in 2016's Suicide Squad. She definitely has the attitude required to accomplish any mission as the new 007.