Trump breaks up with Steve Bannon in searing statement: He "pretends to have had influence"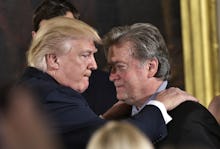 President Donald Trump on Wednesday laced into Steve Bannon, saying that when his former chief strategist was fired over the summer, "he not only lost his job, he lost his mind."
"Now that he is on his own, Steve is learning that winning isn't as easy as I make it look," Trump said in a statement. "Steve had very little to do with our historic victory, which was delivered by the forgotten men and women of this country. Yet Steve had everything to do with the loss of a Senate seat in Alabama held for more than 30 years by Republicans. Steve doesn't represent my base — he's only in it for himself."
Trump's searing comments came in immediate response to Bannon's comments in an upcoming book by journalist Michael Wolff on the Trump campaign and the early days of the Trump White House. An excerpt adapted from the book, scheduled for release Tuesday, was published by New York magazine late Wednesday morning.
Bannon told Wolff in an interview for the book that the now-infamous Trump Tower meeting that Trump's son Donald Trump Jr., son-in-law Jared Kushner and former campaign chairman Paul Manafort had with a Russian lawyer at the height of the 2016 campaign was both "treasonous" and "unpatriotic" — according to excerpts obtained by the Guardian.
"Even if you thought that this was not treasonous, or unpatriotic or bad shit —and I happen to think it's all of that — you should have called the FBI immediately," Bannon told Wolff for the book.
In response to Bannon's interview for the book, Trump tried to eviscerate Bannon, suggesting his former adviser didn't actually have a major role in his administration and tells lies to further his own career.
"Steve pretends to be at war with the media, which he calls the opposition party, yet he spent his time at the White House leaking false information to the media to make himself seem far more important than he was," Trump said in the statement. "It is the only thing he does well. Steve was rarely in a one-on-one meeting with me and only pretends to have had influence to fool a few people with no access and no clue, whom he helped write phony books."
Ultimately, Trump said that Bannon — who is attempting to run outsider candidates against incumbent Republican members of Congress in primaries in the 2018 midterms — doesn't speak for Trump's base of voters. It's perhaps the biggest slight in Trump's statement, given that Bannon is trying to run candidates whom he says are more Trump-like, and will be friendlier to Trump.
"We have many great Republican members of Congress and candidates who are very supportive of the Make America Great Again agenda," Trump said in the statement. "Like me, they love the United States of America and are helping to finally take our country back and build it up, rather than simply seeking to burn it all down."
Trump's statement is apparently music to Senate Majority Leader Mitch McConnell's ears. After Trump released the statement, McConnell's official campaign Twitter account tweeted a GIF of McConnell smiling from ear to ear.
McConnell fears that Bannon could spoil upcoming Republican pick-up opportunities in the Senate, such as the Alabama Senate special election that Roy Moore lost to Doug Jones in December.
Bannon endorsed the failed Republican candidate. And a super PAC with close ties to McConnell blamed Bannon for the loss on the night of that Dec. 12 special election.
"This is a brutal reminder that candidate quality matters regardless of where you are running," Senate Leadership Fund president Steven Law said in a statement after the Alabama race. "Not only did Steve Bannon cost us a critical Senate seat in one of the most Republican states in the country, but he also dragged the president of the United States into his fiasco."
And McConnell himself dinged Bannon during his year-end news conference in December.
"The political genius on display, throwing away a seat in the reddest state in America, is hard to ignore," McConnell said of Bannon.