British 'Vogue' says we need to talk about race on new cover featuring Nicole Kidman, Margot Robbie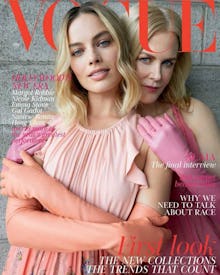 On Wednesday afternoon, British Vogue, or #NewVogue as it was dubbed in December, released its third issue under the leadership of newly appointed editor-in-chief Edward Enninful.
The "Hollywood special February issue" cover features actresses Nicole Kidman and Margot Robbie. "Hollywood's New Era" it reads, with the names of the two actresses listed above other notables, including Emma Stone, Gal Gadot, Saoirse Ronan and Hong Chau.
To the right, in all caps: "WHY WE NEED TO TALK ABOUT RACE."
Enninful, who helped style the shoot, made history with his debut cover in December featuring model, activist (and his own goddaughter) Adwoa Aboah — only the third black model to ever appear alone on a British Vogue cover.
"My Vogue is about being inclusive," Enniful told the BCC in November, and this cover proved just that, featuring the names of British creatives including Zadie Smith, Sadiq Khan and Steve McQueen alongside Adwoa's mug, painted by legendary makeup artist Pat McGrath.
"What a gorgeous first cover," Marc Jacobs wrote. "DIVINE! AMAZING!!" remarked supermodel Naomi Campbell. "Historic," wrote the Independent.
It was expected that this would lead to continued efforts towards inclusion from a magazine that had once made headlines for its lack thereof, and had not too long ago been called out by Campbell herself for the staff's lack of diversity.
Then came January's Taylor Swift-fronted cover.
Many noted the stark contrast between cover stars.
And now, for Enniful's third time up at bat, two white women on a cover that purports to want to discuss race. The juxtaposition between image and sentiment did not go unnoticed online.
This new issue brings #NewVogue's track record to one model of color and three white celebrities for its first three issues under Enninful. Progress? You decide.