In the fight between Trump and Bannon, white nationalists choose the president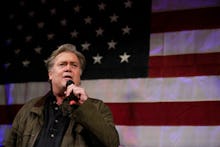 For white nationalists and the so-called alt-right, Steve Bannon was once their guy in the White House. As a senior adviser to President Donald Trump, the man in charge of Breitbart News was a staunch nationalist who it was believed would help close the borders, deport undocumented immigrants and fight off the establishment trying to get in Trump's way.
But on Wednesday morning, old comments surfaced in which Bannon called a meeting between Trump's campaign staff and Russian officials "treasonous." It took Trump just a few hours to officially respond.
"Steve Bannon has nothing to do with me or my presidency," Trump said in a statement to reporters, in which he went on to accuse his former close ally of being a self-aggrandizing spoiler.
"When he was fired, he not only lost his job, he lost his mind," Trump quipped.
Immediately after this statement dropped, the white nationalists of the nation took to social media to proclaim the fall of Steve Bannon from their favor. For the nationalist far right, Bannon repeatedly committed a cardinal sin — a sin that has exorcised countless former allies from the white nationalist movement: not being publicly racist enough.
"If you haven't noticed, Bannon is essentially dead to us now," the far right account "/pol/ News Network" tweeted.
Throughout early 2017, the anti-Semitic far right saw Bannon as their advocate in the Oval Office, scrapping for a nationalist agenda against competing advisers like Jared Kushner (who is Jewish). When Bannon was ousted from the White House in August, he quickly set his eyes on the 2018 Senate elections. Breitbart foretold of a "League of Extraordinary Candidates" that Bannon would line up to seize the Republican party away from the establishment swamp in favor of more nationalist, Trump-supporting candidates.
But Bannon fell slowly and steadily from the alt-right's good graces in the months that followed.
First, he helped lose a Senate race. Bannon personally took to the campaign trail to stump for Roy Moore, a Senate candidate for Alabama described by Politico as "pure Steve Bannon." In the aftermath, a Super PAC affiliated with Republican Senate Majority Leader Mitch McConnell — Bannon's arch rival in the Senate — tweeted out a GIF mocking Bannon for the loss:
But last straw for the white nationalist right was Bannon's recent treatment of Paul Nehlen, a Republican from Wisconsin with plans to run against Rep. Paul Ryan. Bannon reportedly called Ryan a "limp-dick motherfucker who was born in a petri dish at the Heritage Foundation," and supported Nehlen's run against Ryan.
In December, Nehlen's less TV-friendly politics started surfacing. He tweeted alt-right memes and retweeted fawning photos of the torch-lit rally in August in Charlottesville, Virginia. He went on podcasts like "Fash the Nation" — that'd be "fash" as in "fascist." HuffPost reported that Bannon was potentially supporting an overt white nationalist candidate.
Bannon quickly dropped Nehlen, and his camp told CNN that the candidate was "dead to us." Breitbart immediately started deleting Nehlen's radio interviews and contributions to the site. For many white nationalists, this was a total betrayal of a candidate who proudly championed their values without hedging.
The online far right soon adjusted their anti-Semitic conspiracy again — this time seeing Bannon as a tool of Jewish elites in media.
Bannon is a Christian who allegedly told his ex-wife that he doesn't like Jewish people or the way they "raise their kids to be 'whiney brats.'" Nevertheless, he's an avowed supporter of Israel who's given speeches for the Zionist Organization of America.
For the right, Trump's disavowal of Bannon is another victory of the Trump train over the alleged Jewish conspiracy, and perhaps a new opportunity for Paul Nehlen to shine.
"You are seeing the beginning of the end of Jewish power in the West," popular white nationalist Alba Rising tweeted.