Could the host adjustment on 'Today' mark a sea change for morning TV's gender dynamics?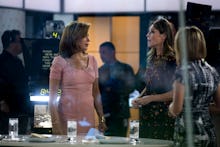 On Tuesday, longtime NBC television journalists Hoda Kotb and Savannah Guthrie made history as the first permanent women-only co-anchor team in the history of NBC's Today franchise. The new permanent pairing is a chance to prove that a morning television program with two women leads can make for a big ratings win — but the big question is whether other networks will now follow suit.
Today, which launched in 1952, has traditionally featured male co-hosts with female sidekicks. That arrangement has been commonplace across morning television, whose primary audience is women, and whose successes have relied heavily upon the chemistry among the hosts. Recall the recent frantic search for a male co-host to join Kelly Ripa on Live! following the abrupt departure of co-host Michael Strahan, before Ryan Seacrest ultimately emerged as Strahan's successor.
The move is certainly historic — if a little overdue — and it could mark a turning point in morning television that has in the past defaulted to the longstanding trope of having one man and one woman co-anchor morning television programs.
Bob Thompson, a professor of television and popular culture at Syracuse University's Newhouse School, said that the pairing of Kotb and Guthrie upends the more traditional morning television structure.
"The standard has kind of become one male and one female," Thompson said in an interview Tuesday. "And the idea is that these anchors were our surrogate mom and dad … So the idea of having two women in the lead roles, if nothing else, signifies a change in the culture."
In early decades of morning television, women co-hosts were often relegated to lifestyle and culture news pieces, while men co-hosts took the more serious news. Placing one man and one woman to share co-hosting duties has remained key as executives sought to establish the familiar, friendly rapport among co-hosts that has been essential to a winning show formula.
Kotb, a longtime NBC News journalist, has built a following over the last decade at Today as one of the cheery co-hosts of the show's wine-soaked fourth hour alongside Kathie Lee Gifford. She will continue hosting the 10 a.m. hour of Today along with the 7-9 a.m. hours alongside Guthrie, becoming one of the most crucial elements of the Today cast.
Lauer's departure, and the sexual misconduct allegations made against him, shook the Today audience, as numerous news outlets reported, but his departure has not amounted to a ratings disaster for NBC. In fact, Kotb's temporary co-hosting duties alongside Guthrie led to a ratings win for the network in the weeks following Lauer's dismissal — although that lead waned to a virtual 4.3 million-viewer tie with ABC's Good Morning America in the last week of December.
Dr. Sherri Williams, an assistant professor of race, media and communications at American University, said that Kotb's elevation to the top amounted to a positive step forward for morning television.
"Hoda Kotb's permanent appointment as co-host of the Today show is progress," Williams said in an interview with Mic. "Television anchors are people who are trusted voices of authority and reason, and anchor positions have been overwhelmingly occupied by men — white, heterosexual men. Having two women anchors for the top-rated morning news program shows that women can be credible and respected sources of knowledge and news."
Williams added that Kotb's elevation is also a step forward for women of color. As of Kotb's permanent appointment to Today, the morning television programs on the three major networks — ABC, CBS and NBC — all have a primary co-anchor who is a woman of color, with Gayle King on CBS This Morning and Robin Roberts on Good Morning America.
But Williams pointed out that NBC had opportunity to elevate Kotb sooner.
"Hoda Kotb has always had these skills, and always had these chops, but she was only elevated as a result of a sexual harassment scandal," Williams said. "So I think this is perhaps a lesson for the folks in network news or just in media across the board, to look at women of color who are already working in their newsrooms and already working in their shops. To look at the talent that they already have and value it in the first place."
Thompson suggested that other network executives will likely watch and see whether Kotb and Guthrie's co-anchorship will amount to a success. At CBS News, co-hosts Norah O'Donnell and King have been co-hosting the show with rotating guest hosts in the wake of the departure of Charlie Rose after he was also fired for allegations of sexual harassment in November. Who will become Rose's permanent replacement remains unclear.
Ultimately, the success of Kotb and Guthrie on Today will come down to their chemistry, Thompson said — which already seems strong, based on their rapport as friends.
"How well this does for the Today show, where it puts it in competitive position with things like Good Morning America, we're going to have to wait and see," Thompson said. "Those changes in chemistry by changing major cast members can be really hard to do. It's not science. It's show business."