Trump makes false claim that people are "voting illegally" after disbanding voter fraud commission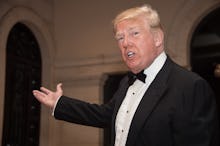 President Donald Trump on Wednesday disbanded the voter fraud commission he launched in 2017 — but that hasn't stopped him and the White House from continuing to make the false claim that some "voted illegally" in the 2016 presidential election.
Trump signed an executive order on Wednesday disbanding the Presidential Advisory Commission on Election Integrity. He had created the commission in May in an effort to prove his patently false claim that between 3 million to 5 million people voted illegally in the 2016 presidential election — an effort on his part to explain away the election results, in which he lost the popular vote to Hillary Clinton by nearly 3 million votes.
In a statement announcing the end of the commission, White House press secretary Sarah Huckabee Sanders falsely claimed Wednesday that there was "substantial evidence of voter fraud" in the election. Sanders told reporters that legal challenges to the commission forced Trump to end it.
"Despite substantial evidence of voter fraud, many states have refused to provide the Presidential Advisory Commission on Election Integrity with basic information relevant to its inquiry," she said. "Rather than engage in endless legal battles at taxpayer expense, today President Donald J. Trump signed an executive order to dissolve the commission, and he has asked the Department of Homeland Security to review its initial findings and determine next courses of action."
But on Thursday morning, Trump continued to spew false information about voter fraud and the commission he had just disbanded.
"Many mostly Democrat States refused to hand over data from the 2016 Election to the Commission On Voter Fraud," Trump tweeted. "They fought hard that the Commission not see their records or methods because they know that many people are voting illegally. System is rigged, must go to Voter I.D."
At least 44 states, including deep Red states such as Mississippi, refused to hand over voter information to Trump's voter fraud panel.
"They can go jump in the Gulf of Mexico, and Mississippi is a great state to launch from," Mississippi Secretary of State Delbert Hosemann, a Republican, said in a June statement about what he would do if the commission asked for his state's voter files. "Mississippi residents should celebrate Independence Day and our state's right to protect the privacy of our citizens by conducting our own electoral processes."
And the Association of Secretaries of State — which includes both Democratic and Republican members — said in a statement in January 2017 after Trump's claims of voter fraud that they were "not aware of any evidence that supports the voter fraud claims made by President Trump."
The voter fraud commission was plagued by legal challenges throughout its six-month lifespan.
White House officials told Politico on background that the commission was a bad idea from the start, and blamed the idea on Steve Bannon — whom Trump controversially torched in a statement Wednesday.
"This was his idea, and it was not a good one," an unnamed official told Politico of the commission, referring to Bannon.