For the love of God, please watch Tiffany Haddish's 17-minute speech at the NYFCC Awards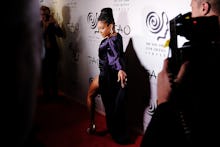 Much has already been said about Girls Trip actor Tiffany Haddish's snub from the Golden Globes' best supporting actress category. But aside from the simple fact that hers is a performance worth recognizing, there's another reason to mourn her exclusion from Sunday's award ceremony: the undoubtedly electrifying acceptance speech we're being deprived of.
Need proof that she'd deliver? Look no further than Haddish's acceptance speech for best supporting actress at the New York Film Critics Circle Awards Wednesday night, footage of which was uploaded to Facebook by BuzzFeed film critic Alison Willmore.
In it, Haddish spends a whopping 17 minutes discussing her sensitivity to harsh film critics, making some not-so-subtle passes at actor Michael B. Jordan (Creed) and comparing herself to the image of a multiarmed Hindu goddess whose likeness was projected behind her.
OK, yes, it's a long speech, but it's well worth your time.
A few highlights worth mentioning:
• "First, I want to thank God, because without God, my mommy and daddy wouldn't have put their two uglies together and made me. Because that was all God right there. He put two crazy people together to make one awesome crazy person."
• "When I look at [the Hindu goddess behind me,] I feel like I'm looking at myself. She's taking a nap, but she's doing a lotta stuff all at the same time. That's what my life has been like the past year. ... She's holding onto some seeds or a pine cone, which means she's trying to produce and create and that's exactly what I'm trying to do. I'm not trying to get pregnant yet Michael — but I'm working on it — B. Jordan."
• "When I work [on a creative project,] I work with everybody. From the person that's working the camera to the person that's running the water to the person that's putting the clothes on me, the person that's combing my hair, my makeup, the person that's like, 'You gotta sign these papers' — I'm trying to hang out with everybody, because all of y'all make my money come through."
• "I know some people here think they're gonna talk shit about me. It's OK. You know why it's OK? Because you care enough to say something. If you didn't say nothing, then you didn't care. So if you said something, thank you. I don't care if it's positive or negative. I appreciate you. I'm glad you see me. Because it's been so many years that nobody saw me."
• "[It means a lot] to be able to be this example to so many youth. There are so many people like me that you guys have no clue about — but they're coming, 'cause I keep the fucking door open."
• "Can I share one scene with y'all that I really wanted to make into the movie, but Universal said that it was afraid that women would actually do this shit? So they didn't put it in there because they didn't wanna get sued. ... So, there's a scene where I'm telling [Girls Trip actor Regina Hall] all the things that I'd do for her, that I got her back. ... 'When he's asleep, we're gonna burn your name in his dick. And then we gonna put mud and salt on there, so it'll heal over and it'll be ribbed for your pleasure. And then when he wakes up we'll look him dead in his eyes and we'll tell him right in his face to keep [his] name out of these bitches' mouths.'"
• "I'm thankful for you critics. I'm learning a lot about you guys. The only critics I've ever known before this was Siskel and Ebert, and when they passed, I was like, 'Oh well.'"
Haddish may have been snubbed out of Sunday's Golden Globes, but please, Academy — you still have an opportunity to nominate her for an Oscar. Just don't expect that play-off music to do much once Haddish gets going.