Even as an outcast, Steve Bannon has a lasting impact on Trump's legacy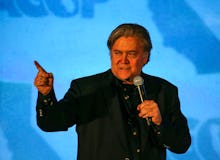 Welcome to Mic's daily read on Donald Trump's America. Want to receive this as a daily email in your inbox? Subscribe here.
Thursday's dispatch: The mark Bannon leaves on Trump
President Donald Trump denounced his former chief strategist Steve Bannon on Wednesday after the head of Breitbart News was quoted in a book excerpt offering stinging criticism of the president. Author Michael Wolff used Bannon's accounts to write the book, detailing how Bannon viewed himself as the one in control of Trump and the White House.
That drew a rebuke from the White House without equal in modern political history. "He not only lost his job, he lost his mind," Trump said of Bannon in the quick retort. Trump's frustration with his former adviser, who was fired in August, has been growing for months.
The harsh falling out for Bannon on Wednesday was immediate, and led some Bannon-backed candidates to distance themselves from him. Trump's lawyers also sent Bannon a cease-and-desist letter, indicating he had broken a nondisclosure agreement by discussing the Trump presidency. Conservative media outlets also sided with Trump over Bannon, whose largest financial backer, Rebekah Mercer, said she would no longer fund his work. Even white nationalists stood with Trump.
Severing ties to Bannon, however, may not last. Trump has attacked numerous politicians before, only to mend ties when politically expedient. For his part, Bannon said Wednesday night on Breitbart's radio show that he supports Trump and considers him a "great man." This election year will prove to be a major test for Bannon's standing in conservative circles, as more opportunities arise for him to support conservative candidates.
But even if Bannon's relevance fades, the mark he left on Trump and his legacy is undeniable. Much of the chaos in Trump's first year was driven by Bannon's thirst for controversial policy.
Bannon was an ardent supporter of the travel ban Trump announced in his first week in office. He pushed for funding of a border wall with Mexico. He advised Trump's response to white supremacist-fueled violence in Charlottesville, Virginia. He backed the now-defunct commission investigating false claims of mass voter fraud. Though it happened after he left the White House, Bannon was also an opponent of the Deferred Action for Childhood Arrivals program, which Trump announced in September that he would end in March.
Still, the nationalist populism that Bannon helped Trump harness is driving the president's agenda. Earlier this week, the White House said funding for a border wall was a requirement for a deal to protect DACA recipients from deportation. On Thursday morning, in a plea for greater voter ID laws, Trump again falsely claimed that millions voted illegally.
The chaos of Trump's first year was often driven by Bannon. And that period will never be forgotten — and for many, never forgiven.
Out Thursday morning: Wolff's column explaining his reporting of Fire and Fury: Inside the Trump White House.
Today's question: How closely are you following the Trump/Bannon feud?
Please email us at trumpsamerica@mic.com with your thoughts.
Thursday in Trump's America:
Happening outside the Trump-Bannon schism...
No deal yet: Congressional leaders met with Trump on Wednesday but had no deal to announce to keep the government open past Jan. 19. Democrats are increasing their demands that DACA protections be included in any spending deal, which Republicans maintain is a nonstarter. Trump will talk to Senate Republicans about DACA on Thursday.
The House returns next week.
Commission ending: Citing lawsuits and the refusal of states to cooperate, Trump announced an end to his election integrity commission. Democrats and voting rights advocates derided the commission as a tool to suppress voting. The group grew out of Trump's claim after the 2016 presidential election that millions of people voted illegally.
Trump repeated Thursday on Twitter that the "system is rigged," and that states need to implement more voter ID laws, which have been shown to disproportionately disenfranchise minority voters.
Manafort: Trump's former campaign chairman filed a lawsuit Wednesday against the Justice Department. Paul Manafort alleged special counsel Robert Mueller exceeded his directive by focusing on his business dealings instead of potential collusion between the Trump campaign and Russia.
"The lawsuit is frivolous but the defendant is entitled to file whatever he wants," a Justice Department spokeswoman said.
Sexual harassment: Rep. Blake Farenthold (R-Texas) has not yet paid back $84,000 of a taxpayer-funded settlement over sexual harassment allegations. Farenthold said a month ago he would cover the cost of the settlement, though he maintains he did nothing wrong.
Virginia elections: Control of the Virginia House of Delegates will be decided by drawing straws in Richmond, Virginia, on Thursday morning. That follows a recount that brought the Democrat and Republican candidates to a tie in the state's November election.
Koreas: North Korea and South Korea are talking again. Officials for both nations exchanged a brief phone call on Wednesday as their cross-border channel was reopened after two years.
Doug Jones: The junior senator from Alabama — and the first Democrat elected from the deep red state in decades — was sworn in on Wednesday.
Russia investigation: Deputy Attorney General Rod Rosenstein made an unannounced visit to House Speaker Paul Ryan's office on Wednesday as House Republicans have increased their demands for documents on the Trump-Russia inquiry. Some House GOP members want clarity on how the FBI handled a dossier that alleges contact between the Trump campaign and Russia, as well as Trump's activities in Russia.
Iran: How the protests there — and Trump's support for them — could impact the Iran nuclear deal.
Today's MicBite: