While you weren't looking: 5 stories from Trump's America that aren't about tweets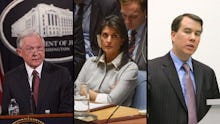 This week, the news was consumed by a seemingly unending series of unhinged tweets from President Donald Trump, followed by a growing public rift between the president and his former top adviser Steve Bannon.
But amid all of the tweeting and bickering, several major policy decisions were made by the Trump administration. Here's what you might have missed.
Jeff Sessions ends policy that helps legal pot markets
Attorney General Jeff Sessions just ended an Obama-era policy that helps allow the sale of legal marijuana in states that have voted to legalize the drug.
The new policy will effectively allow federal prosecutors to decide how and if they want to pursue marijuana prosecutions in states where it has been legalized.
That means anyone growing or selling marijuana in states where the elected government has decided it's permissible will now have to assess whether or not they trust federal law enforcement under Sessions' purview to respect their rights.
In other words, marijuana policy is up to federal prosecutors working underneath one of the country's most ardent opponents of the drug.
The Trump administration threw a party for the (very) few countries that voted with them on Jerusalem
In December, the United States faced a monumental defeat at the United Nations General Assembly when a resolution condemning its Israeli embassy decision passed 128 to 9.
Now, the seven countries who sided with the U.S. and Israel against the rest of the international community have reaped their reward: a party with U.N. Ambassador Nikki Haley.
Apart from the U.S. and Israel, most of the countries who opposed the resolution were the small Pacific Island nations like Micronesia, Nauru, Palau, Togo and the Marshall Islands.
In addition to those nations, two Central American countries — Honduras and Guatemala — also voted no on the resolution. The United States just ended temporary protected status for 57,000 migrants fleeing violence in Honduras, so they probably had a lot to discuss with Haley during the soiree.
Trump to roll back ban on offshore drilling — what could go wrong?
Trump plans to roll back an Obama-era ban on offshore drilling and open up areas off the coast of the U.S. for oil and gas exploration.
The move is in line with Trump's long-standing belief that America should not have cracked down on offshore drilling in the wake of the Deepwater Horizon disaster in 2010, which killed 11 people and caused irreparable damage to ecosystems on the U.S. coast and in the Gulf of Mexico.
Trump tweeted in 2012, "Yes, the BP oil spill was bad, but it was no reason to put tighter clamps on domestic drilling. That showed no leadership at all. What it showed was that the Obama administration is driven more by hysteria than facts."
The legacy of the Deepwater Horizon disaster is enough to draw bipartisan outrage from coastal communities. Florida governor and Trump ally Rick Scott released a statement on Thursday asking that the areas around Florida be removed from consideration.
The Trump administration essentially responded by saying "no promises," and arguing that local communities would have their input heard, but would not be able to decide for themselves whether or not dangerous offshore drilling happens in their backyard.
Refill the swamp: Ex-Lockheed Martin executive confirmed for top Pentagon job
On Wednesday, the Senate confirmed former Lockheed Martin executive John Rood to be undersecretary of defense for policy.
Lockheed Martin has been the United States' biggest contractor in recent years. In 2015, Lockheed was responsible for the most contract obligations of any company working with the U.S. government.
Only seven senators — Sens. Bernie Sanders (D-Vt.), Elizabeth Warren (D-Mass.), Ed Markey (D-Mass.), Kirsten Gillibrand (D-N.Y.), Kamala Harris (D-Calif.), Cory Booker (D-N.J.) and Ron Wyden (D-Ore.) — opposed Rood's nomination.
Rood signed an ethics agreement saying he would recuse himself from any decisions involving Lockheed for two years. But, when pressed by Warren, Rood declined to commit to not seeking a waiver from that requirement on any given decision.
Translation: Rood promises not to weigh in on any decisions involving Lockheed unless he really, really wants to and says please.
Foreign governments discovered to be building special roads and utilities for Trump-branded properties
A new report in the McClatchy Dispatch finds that foreign governments around the world are building special public amenities for Trump-branded properties in their respective countries.
In Bali, Indonesia's government has developed plans to build a toll road that would shorten the commute between the city's airport and a resort that bears Trump's name.
In Panama City, Panama's government has intervened to ensure that a sewer project that would benefit a Trump skyscraper is completed.
Trump famously declined to sever complete ties with his businesses upon taking office, instead handing over management of the operations to his two adult sons.
Any gift Trump accepts from a foreign government is a potential violation of the emoluments clause of the Constitution. He's currently being sued by multiple groups for potential violations of that provision.