Trump draws bipartisan condemnation over move to allow more oil drilling off US coastline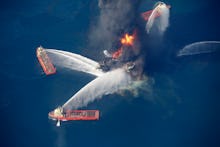 The Trump administration on Thursday announced it wants to open up much of the U.S. coastline to offshore oil drilling, the Washington Post reported, in a move that's drawing condemnation from Democratic and Republican governors alike.
Trump's Interior Department says opening up protected areas of the Arctic and Atlantic to drilling will create jobs.
But a bipartisan group of governors, as well as the Defense Department, are against the plan, fearing drilling could negatively impact their states' environment and tourism.
Rick Scott, the Republican governor of Florida who's been an ally of President Donald Trump in the past, came out against the plan on Thursday.
"I have already asked to immediately meet with [Interior] Secretary [Ryan] Zinke to discuss the concerns I have with this plan and the crucial need to remove Florida from consideration," Scott said in a statement posted to Twitter. "My top priority is to ensure that Florida's natural resources are protected."
Republican South Carolina Gov. Henry McMaster, who endorsed Trump in the 2016 Republican primary, said in April that he was worried this new plan would have a negative impact on South Carolina's natural resources.
And in August, outgoing New Jersey Gov. Chris Christie — also a Republican and a Trump-supporter — had a letter submitted a letter to the Trump administration saying New Jersey is against opening New Jersey's coastline to drilling, fearing that it could impact the state's beach tourism.
"New Jersey has consistently and steadfastly opposed any industrialization of our coast, including the exploration and development of offshore oil and natural gas resources, nor into any portion of the Atlantic Ocean that could negative impact New Jersey's precious natural resources or vibrant coastal communities," the letter reads.
The Navy is also against expanded oil drilling, as it holds military exercises in these waters, according to the Washington Post.
Offshore oil drilling has caused environmental catastrophes in the past, most notably in 2010 when the Deepwater Horizon rig off the coast of Louisiana spilled some 210 million gallons of crude oil into the Gulf of Mexico. Oil spills can have negative impacts on the $60 billion ocean and coastal tourism industry in the U.S., according to the Natural Resources Defense Council.