Despite Trump's claims, job growth is chugging along at the same pace as it did under Obama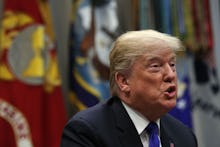 Employers added 148,000 jobs in December, the Bureau of Labor Statistics announced Friday, bringing the total number of jobs created in 2017 — President Donald Trump's first year in office — to 2.1 million.
The number of jobs created in 2017 is slightly lower than the 2.2 million created in 2016. This indicates that despite Trump's bluster about how great he's been for the economy, job growth during his presidency has chugged along at roughly the same pace as it did in President Barack Obama's final year in office.
"The Trump job market looks a lot like the continuation of the long labor market expansion that began under Obama," Chad Stone, chief economist at the Center on Budget and Policy Priorities, told Mic in an interview.
Trump, as well as White House aides and even his own children, have been saying the economy is markedly better during his tenure than it was under Obama.
"The numbers for 2017 are in, and the results are nothing short of amazing for what was once an ailing U.S. economy before the historic election of 2016," Lara Trump — wife of Trump's son, Eric, and a senior adviser to Trump's re-election campaign — said in a statement Friday.
"Dow 25k, New jobs 250k+, Trump policies working, Trump economy booming," press secretary Sarah Huckabee Sanders tweeted Thursday, referring to a different, nongovernmental jobs report released by the payroll company ADP.
Yet 2017's average monthly job growth was actually the worst since 2010, according to BLS statistics. Wages, too, grew at a slower pace under Trump than Obama.
"Nominal wage growth over the past year has been 2.5%, which is actually a little below what it was over the previous year," Stone said.
And, even though the economic recovery is roughly the same under Trump as it was under Obama, Stone said neither president really deserves much credit.
"Presidents get more credit for good economies and more blame for bad than they deserve, as a president's actions have only a limited impact on the economy in the mature stages of an economic expansion like the last few years," Stone said.
Perhaps after this years' jobs data, Trump will go back to saying the BLS job report is "fake."