What Melania Trump wore her 50th week as first lady — $5K dress on NYE, $4K mink on New Year's Day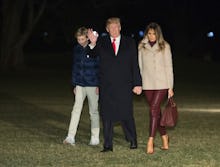 New year, same Melania — which is to say, she only made one public appearance in her first five days of the new year.
And really that was just from the walk off of Air Force One into the White House. Luckily, we got one last glimpse of her the evening before.
This is what she wore:
Sunday, Dec. 31: Sparkly sequins for New Year's Eve
Following her appearance at a Christmas Eve church service in southern Florida on Dec. 24, Melania Trump, as she is wont to do, went off the public radar, only reappearing one more time in 2017, at her husband's annual Mar-a-Lago New Year's Eve gala.
To the event, Melania wore a $5,500 Erdem sequined minidress (subsequently out of stock online) and matching pink Christian Louboutin pumps.
Monday, Jan. 1: Leather pants, heels, a Birkin bag and coat to arrive back at the WH
Arriving back at the White House on New Year's Day afternoon, Trump opted for a $3,980 mink Bottega Veneta pea coat, maroon leather tights, with matching Louboutin heels and a Hermes Birkin bag.
Since then, Mrs. Trump has not surfaced on the scene. Here's hoping she does that soon.
You can see previous recaps of what Melania Trump wore here.