Ready to switch bank accounts? The 15 worst banks for consumer complaints — and how to find a gem.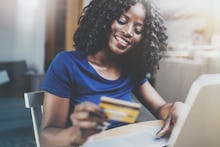 When you think your bank ripped you off, it's easy to feel a little unsure. After all, maybe it really was your fault for not reading the labyrinthine terms of agreement carefully enough. Or maybe you should have been paying better attention to those overdraft fees as they added up?
Of course, sometimes it's actually the bank's fault — whether the institution quietly opened accounts you didn't want or levied fees for services you didn't use. That's why the Consumer Financial Protection Bureau maintains a list of consumer complaints against various financial institutions.
Banks are obviously not fans of this database, and they argue that it creates a platform for unsubstantiated grievances. Given the CFPB's new industry-friendly leadership, policy changes could endanger the public records, as Bloomberg's Mark Whitehouse noted, making now a good time for you to take a look at the data — with more than 900,000 complaints as of Jan. 5.
Consumer advocates worry that without the database — and the pressure it puts on financial institutions — people won't be as likely to report abuses.
"If you get mishandled by a bank, you might be too embarrassed to say that you were mishandled or mistreated," Mike Brown, a researcher at LendEdu and author of a new analysis of the CFPB complaints, said in a phone interview. "You might think, 'I was so misinformed, that's why they were able to pull this on me.' But when you see in the news that this company has done this to thousands of customers, you're more likely to admit that you were one of the victims."
So which banks are the biggest offenders? To find out, Brown ranked the number of complaints filed to the CFPB, weighted by the total value of bank deposits the institution took in over the course of a year. (Number of new accounts, he acknowledged, would have provided an even better picture of complaints per customer, but that data is not as readily available.)
The chart below shows the biggest offenders, ranked by complaints per billion dollars in deposits, limited only to issues with banking products like checking and savings accounts (not, say, mortgages). These also include disputes over other banking services, like not being able to close a CD account.
For the second year in a row, TCF National Bank — a regional bank based mostly in the Midwest — topped this particular ranking with nearly eight consumer complaints for every billion dollars in customer deposits. Some of the better-known offenders included PNC Corporation and Bank of America, which ranked 11th and 12th, respectively, with a little less than 2.5 complaints per billion in deposits.
That said, many common complaints about banks aren't about checking or savings accounts, but about problems with mortgages, debt collection services and credit reporting. Brown also compiled a ranking that included those complaints as well, where many of the biggest banks fared even worse: Citigroup, Wells Fargo and Bank of America all ranked in the top 10, with at least six complaints per billion dollars. (You can see the list here.)
How to change a bank account
If you're really fed up with poor service at your bank, you've got options — beyond just filing a complaint. It's actually a good time to shop around for a new bank or credit union, as institutions are stepping up the interest rates they offer, in an attempt to compete for new customers.
Dollar Savings Direct and Goldman Sachs offer some of the highest interest rates on savings accounts in the country, currently 1.6% and 1.4%, respectively, though you'll want to read the fine print about account minimums or the number of withdrawals you can make each year.
When it comes to checking accounts, be sure to check on fees, policies and account minimums before you sign up. The average overdraft fee is about $33 and many banks charge you extra ATM fees for out-of-network withdrawals.
Some alternatives include Chime and Simple, which will decline a charge instead of making you pay an overdraft fee. Meanwhile, Aspiration, Charles Schwab and Radius all reimburse out-of-network ATM charges.
What's more, Simple was recently singled out by Wirecutter as having the most "useful budgeting" tools of any bank.
You can read more about some of the top bank accounts around in our previous guides here and here, though you should always verify information with banks directly — as terms may have changed. Once you are ready to make a change, simply ask your new bank if they have a "switch kit," a handy package that makes the process of swapping accounts relatively seamless.
Sign up for the Payoff — your weekly crash course on how to live your best financial life.