Ed Westwick's role in BBC drama recast following sexual assault allegations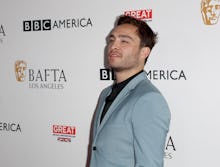 In the wake of three separate allegations of rape or sexual misconduct lodged against him in recent weeks, actor Ed Westwick has officially been dropped from the BBC's Agatha Christie drama Ordeal By Innocence.
According to the Hollywood Reporter, the former Gossip Girl star's scenes in the production, which had already wrapped filming and had been scheduled to air around Christmastime, will now be reshot later this month, with the actor Christian Cooke stepping in to fill Westwick's role.
The change in programming was announced on Friday by co-producers Mammoth Screen and Agatha Christie Limited, along with the news that a new air date will be released soon.
As 2017 came to a close, three women came forward in rapid succession to accuse Westwick of sexual misconduct. One of the women, the actress Kristina Cohen, recounted a graphic memory of one such encounter on her personal Facebook page:
So I went and laid down in the guest room where I eventually fell asleep, I was woken up abruptly by Ed on top of me, his fingers entering my body. I told him to stop, but he was strong. I fought him off as hard as I could but he grabbed my face in his hands, shaking me, telling me he wanted to fuck me. I was paralyzed, terrified. I couldn't speak, I could no longer move. He held me down and raped me.
Westwick has vehemently denied all of the allegations against him in the past, and denied ever knowing Cohen.
"I do not know this woman. I have never forced myself in any manner, on any woman," he said. "I certainly have never committed rape."
Westwick's replacement in a role in the wake of sexual assault allegations isn't unprecedented. In 2017, director Ridley Scott subbed out Kevin Spacey for Christopher Plummer after the former was publicly accused of sexual misconduct.