Stop picking on Guy Fieri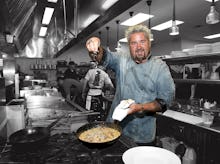 Everybody loves to hate Guy Fieri. From his spiky bleached head to his long list of catchphrases that include describing food as "bomb-dot-com tasty," the restaurateur and Food Network star apparently has a number of qualities that classify as "douchey."
As news of the recent closure of Guy's American Kitchen & Bar in Times Square, New York City, got around, Fieri's adversaries grasped the opportunity (mostly on Twitter) to exercise gratuitous savagery.
Fieri has faced criticism for some serious allegations, namely that he is homophobic. This rumor seems to have spawned from David Page, a former producer on Diners, Drive-ins and Dives, who who made the accusations after filing an unrelated lawsuit. Food Network spoke out against that claim. Four years later — perhaps as repentance, image rebranding or a mixture of both — Fieri officiated a wedding for 101 same-sex couples in Miami. He's also spoken of his late sister, who was gay and died in 2011 of melanoma.
The malice against Fieri — for less serious infractions — has gone on for years. In a 2015 stand-up tour, chef and food personality Anthony Bourdain gave a patronizing critique of the Diners, Drive-ins and Dives host.
"I wonder about him," Bourdain said of Fieri. "He's 52 years old and still rolling around in the flame outfit. ... What does he do? How does Guy Fieri de-douche?" (Fieri was actually 47 at the time.)
Later on, in a 2016 interview with AdWeek, Bourdain said Fieri deserves a "relentless mocking" for his wardrobe. In his words:
I find Guy Fieri a rich and deep vein of comedy, there's no doubt about it, and he's worthy of a solid and maybe relentless mocking as anyone who has made his sartorial choices deserves.
But Fieri is more than his flame-adorned wardrobe and goatee. Part of his charm is exactly what his naysayers want to tear down: Fieri embraces all kind of food — not just fine dining — without any pretentiousness, which separates him fiercely from his competitors in the food and entertainment space. Bourdain, on the other hand, has said you're pretty much a douche if you order truffle fries.
The people who love Fieri do, in part, because they can imagine eating across the table from him. Rather than watch him debate the nuances of a piece of uni, America gets to see Fieri involuntarily lick the sauce from his fingers when he's gastronomically transported to Flavortown — he's so taken by the taste of something he's eating, and his viewers can imagine feeling the same. Almost everything he consumes on Diners — from a chili cheeseburger to a succulent meatball hoagie — he does so with a starry-eyed appreciation and awe. He loves to love food, and his viewers love his unabashed appreciation.
Something else worth celebrating in Fieri is his fearlessness and tact in the face of his biggest critics. In response to Bourdain's sideswipes, he told GQ in November 2015: "I don't like him making fun of people, and I don't like him talking shit. And he's never talked shit to my face. I know he's definitely gotta have issues, 'cause the average person doesn't behave that way." He posed later, "What are you doing? What is your instigation? You have nothing else to fucking worry about than if I have bleached hair or not? I mean, fuck."
"I am the way I am and the way I've always been." — Guy Fieri
His comeback is not at all antagonistic, only critical of how the Parts Unknown host spends his time. Fieri calls Bourdain out for what he really is: a bully. It's an exemplary response in fending off the haters.
When New York Times food critic Pete Wells tore into the aforementioned Times Square restaurant (and, consequentially, Fieri himself) in a manner that can only be described as bloodthirsty, Fieri didn't take a dig at Wells. He said, "That wasn't going to change me," as First We Feast reported. "I am the way I am and the way I've always been. I've opened six restaurants since then."
I'm not the first person defend Fieri. "People shit on that dude all the time, and as far as I can tell, all he ever did was follow his dreams," comedian Shane Torres recently said on Conan. "People are horrible to a television personality and he didn't do anything wrong."
Torres goes on to describe several of the things Fieri has done right while hosting a popular food TV series, and it's true, the chef has a history of being charitable. He was an early responder to the destructive wildfire that tore through Santa Rosa, California, in October. Fieri leapt to provide aid for victims, cooking around 23,000 meals in a week and partnering with the Salvation Army to feed those in need. He's also the founder of a nonprofit that supports various programs intended to encourage and educate children about food and entrepreneurship.
Fieri seems to grasp the shallow reasons for which he is disliked — but he doesn't allow them to shake his self-confidence. "What am I supposed to do? Am I supposed to stop being me? If someone boos a quarterback, does that mean he stops throwing his favorite pass?" he said in an interview with Success magazine. He continued:
If I probably didn't have tattoos, or if I probably didn't bleach my hair, or if I probably didn't wear blue jeans and a T-shirt to fancy things, if I didn't do things that make me look like someone who's whacked out of their mind, it'd probably be different. But then again, that's how I wanna dress. And I like my tattoos. And I like my hair cut the way it is.
Fieri has evolved into an acceptable punching bag merely for the way he looks and for his unwavering enthusiasm for food. This is bullying at its most primitive; it's particularly unnerving in a time where we've seen bullying contribute to increasing mental health issues. To continue to pummel Fieri for his particular vibe is to teach our kids to judge a book by its cover.
In the words of the rarely quoted Melania Trump, "We must teach each child the values of empathy and communication that are at the core of kindness, mindfulness, integrity and leadership, which can only be taught by example." Fieri just might be the anti-bullying spokesperson this country needs.