Broadway legend Ben Vereen accused of sexually assaulting multiple women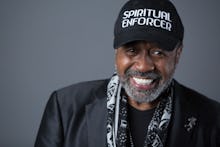 Multiple women have come forward to accuse Broadway legend Ben Vereen of sexual harassment during auditions he held for a community theater production of Hair in 2015.
On Friday, the New York Daily News reported that several of the young actresses cast in the Venice Theatre production said they were subjected to bizarre and manipulative behavior during the rehearsal process, including being forcibly kissed and hugged by Vereen, witnessing the Tony Award winner strip naked in front of them and listening to off-color comments about their weight and general attractiveness.
Two of the actresses also reported being separately coerced to join Vereen at the Florida home he was renting for what he called "private rehearsals," where he proceeded to "[press] his erect penis into their legs without warning," and used the same pleading lines to get them to join him in his hot tub.
"He gave this whole speech about how nudity was not inherently sexual. 'That's not what it's about,'" one of the women told the Daily News. "He made me feel that if I wasn't mature enough to understand that, I wasn't mature enough to be in Hair."
The second woman said that when Vereen asked her to perform oral sex in the hot tub, she reluctantly obliged out of confusion and fear.
"I just think at the time, I didn't feel like I had a choice," she told the Daily News. "I didn't want to do it, but I was intimidated and scared. He was being very intense and angry. He seemed very angry and offended."
Although the actresses who reported being invited to Vereen's home were just 22 and 23 years old at the time, Vereen himself was approaching 69.
In a statement provided to the Daily News, Vereen did not deny any of the allegations, but apologized directly to the female cast members of the musical for what he described as his "inappropriate conduct."
"While it was my intention to create an environment that replicated the themes of that musical during the rehearsal process, I have since come to understand that it is my conduct, not my intentions, which are relevant here. So I am not going to make any excuses, because the only thing that matters here is acknowledging and apologizing for the effects of my conduct on the lives of these women."
In a statement given to the Daily News, Venice Theatre executive director Murray Chase said theater officials were aware of the allegations against Vereen and had made attempts to contact every member of the 32-person Hair cast to apologize.
"We have learned recently that during our 2015 production of Hair, more than one female cast member was asked to join Mr. Vereen at his residence. Some of those visits resulted in compromising situations for at least two of the actresses," he said. "We are working to strengthen our sexual harassment policies and procedures, including the reporting of them, to prevent any future occurrences."