A brief look at the credibility of 'Fire and Fury' author Michael Wolff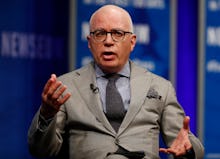 The White House is being rattled this week by the release of excerpts from author Michael Wolff's new book chronicling the turbulence of the early days of President Donald Trump's administration.
The incendiary book, Fire and Fury: Inside the Trump White House, was released early on Friday, but has already drawn the ire of the president when excerpts were released earlier this week. Trump's lawyers sent a cease and desist letter and called for it to be retracted. As expected, Trump also took to Twitter to decry the "phony" book and deny that he gave Wolff access to the White House. Wolff reacted with aplomb.
"Where do I send the box of chocolates?," Wolff said on Today Friday morning about the president's reaction. "Not only is he helping me sell books, but he's helping me prove the point of the book. This is extraordinary that a president of the United States would try to stop the publication of a book. This doesn't happen, has not happened from other presidents — would not even happen from a CEO of a mid-sized company."
Among the details published in Fire and Fury are claims that Trump did not want to be president, that he did not recognize old friends at his Mar-a-Lago estate in Florida, and perhaps most explosively that Steve Bannon described the meeting between Donald Trump Jr. and a Russian lawyer at the height of the 2016 campaign as "treasonous." The book also includes accounts from the president's top officials describing Trump as unfit for his job.
"I will tell you the one description that everyone gave ... they all say, 'He is like a child,'" Wolff said on Today. "And what they mean by that is, he has a need for immediate gratification. It's all about him." He later added, "They say he's a moron, an idiot. ... This man does not read, does not listen. So he's like a pinball, just shooting off the sides."
"I will quote Steve Bannon: 'He's lost it,'" Wolff said later during the interview.
This week, however, Wolff himself has also come under major scrutiny as the veracity of his claims are being challenged by many outside the Trump camp. New York Times reporter Maggie Haberman described the book as "light in fact-checking," and containing claims that are "inaccurate/flat-out false." Meanwhile, several notables mentioned in the book — including Tony Blair, Anna Wintour, Trump friend Thomas Barrack, Jr. and former deputy chief of staff Katie Walsh — have denied statements or situations attributed to them in Wolff's book.
Others have defended Wolff and his reporting. Eldridge Industries strategist Janice Min, who attended a dinner party quoted by Wolff in the book, tweeted Thursday that "every word I've seen from the book about [the dinner party] is absolutely accurate."
"I was blown away by the level of trust and confidence Steve Bannon and Roger Ailes had in Michael," Min said about the dinner party in an interview Friday on Morning Joe. "He was clearly one of them. I mean, they liked him, they trusted him and they spoke openly."
Reuters editor Jonathan Weber, too, came to Wolff's defense on Twitter, writing Wednesday that "nothing ever led me to doubt his reporting" when Weber edited Wolff's work at the Industry Standard.
In the introduction to his book, however, Wolff even acknowledges that some of the information may be falsehoods, due to the nature of his subject.
"Many of the accounts of what has happened in the Trump White House are in conflict with one another; many, in Trumpian fashion, are baldly untrue. Those conflicts, and that looseness with the truth, if not with reality itself, are an elemental thread of the book," Wolff wrote in the book's introduction.
"Sometimes I have let the players offer their versions, in turn allowing the reader to judge them. In other instances I have, through a consistency in accounts and through sources I have come to trust, settled on a version of events I believe to be true," he continued.
Nevertheless, Wolff told Savannah Guthrie on Today that he stands by "absolutely everything" in the book.
"I work like every journalist works, so I have recordings, I have notes," he said Friday. "I am certainly and absolutely, in every way, comfortable with everything I've reported in this book."
When asked if Wolff would release his recordings, given the doubts about his credibility, Wolff responded: "My credibility is being questioned by a man who has less credibility than perhaps anyone who has ever walked on Earth at this point."
Yet interrogating Wolff's credibility may be founded. Though he has made a career out of his insights into some of the country's top figures, this isn't the first time his journalistic bona fides have been up for debate.
Who is Michael Wolff?
Wolff is a longtime journalist, who has served as a columnist for New York magazine, contributing editor at Vanity Fair and founder of the website Newser. He's the author of six books in addition to Fire and Fury, and is a contributor to the Hollywood Reporter, British GQ, USA Today and the Guardian.
As the son of an ad man and newspaper reporter, Wolff's primary focus has typically been on the media and its major power players. He penned a book on media mogul Rupert Murdoch, while his longtime New York column "This Media Life" "[gave] readers a first-person glimpse of the inner workings of the media biz as it happened to, and all around, him," the New Republic noted in 2004.
Yet the "It Boy of New York media" is disliked by many, as he's spent years wielding the power of the poison pen.
"Michael will say anything about anybody," late New York Times media reporter David Carr told the New Republic in 2004. "He's fearless in a way that people attribute to sociopathology, but that I always thought was a business strategy."
"There's no unalloyed moment with Michael," Carr said. "You're always on the record and performing. I think people don't like him because they have to be careful around him."
History of bending the truth
Though Wolff said on Today that he doesn't think "there has ever been one correction" issued for his writings, he has been criticized throughout his career for not always fully depicting events exactly as they happened.
"Much to the annoyance of Wolff's critics, the scenes in his columns aren't recreated so much as created — springing from Wolff's imagination rather than from actual knowledge of events," Michelle Cottle wrote in the New Republic. "Even Wolff acknowledges that conventional reporting isn't his bag. Rather, he absorbs the atmosphere and gossip swirling around him at cocktail parties, on the street, and especially during those long lunches at Michael's."
An editor who worked with Wolff told the New Republic,"[Wolff's] great gift is the appearance of intimate access. He is adroit at making the reader think that he has spent hours and days with his subject, when in fact he may have spent no time at all."
Wolff's New York columns included several claims that were later decried by the people he was discussing, including book editor Judith Regan — who said she hadn't spoken to Wolff in 30 years when disputing a column about her — and New Republic columnist Andrew Sullivan.
Wolff's books have also been flagged by critics as not wholly representing the truth. His 1998 book Burn Rate — which itself included a story about Wolff lying about his father-in-law having open heart surgery, the Post noted — was heavily criticized as containing false reporting. Now-defunct publication Brill's Content cited 13 individuals mentioned, portrayed in or familiar with events in the book who said Wolff had either invented or changed quotes. None could recall Wolff recording or taking notes on their conversations.
"Wolff exploits the human tendency to confuse frankness and cruelty with truth-telling," Jack Shafer wrote in a review of the book for Slate.
Carr's 2008 New York Times review of Wolff's book on Murdoch also pointed out the factual inaccuracies in some of the author's reporting. He noted that Wolff "prefers the purity of his constructs."
"Historically, one of the problems with Wolff's omniscience is that while he may know all, he gets some of it wrong," Carr wrote.
In a 2004 review of his book Autumn of the Moguls published in the Atlantic, critic Eric Alterman acknowledged that "sometimes [Wolff] gets it righter than anyone" — though he, too, points out how "wrongheaded" the author's reporting sometimes can be.
"One doesn't read Wolff to find out what's true; one reads him to find out what people may think is true," Alterman wrote. "And the act of his writing and publishing it helps make it 'true' in this sense."
"Does it all add up? That depends on the meanings of 'it,' 'all,' 'add' and 'up,'" Alterman wrote. "As I said, there's a reality here to which Wolff is the world's greatest living anthropologist, but it is a reality that is lighter than air."