Trump on his mental stability: I am a "very stable genius"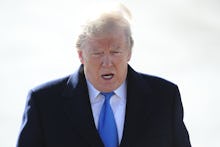 President Donald Trump — whose faculties have come under intense scrutiny in recent days as details have emerged from a tell-all on his first year in office — took to Twitter early Saturday morning in an effort to dispel any notions that he is mentally unstable or that he lacks the intellectual prowess necessary to run the country.
"Throughout my life, my two greatest assets have been mental stability and being, like, really smart," Trump tweeted. "I went from VERY successful businessman, to top T.V. Star to President of the United States (on my first try). I think that would qualify as not smart, but genius...and a very stable genius at that!"
Trump has been flustered for days since Fire and Fury, journalist Michael Wolff's deeply unflattering book about the beginning of his presidency, was excerpted in several magazines throughout the week and published on Friday.
The book — which Trump dismissed in a "like, really smart" tweet Friday as "really boring and untruthful" — paints him as an infantile, barely literate and wildly incompetent man who didn't actually want to be president and eats burgers in bed while watching three television screens of cable news. It also features just about everyone in the White House, including those closest to him, describing him as an "idiot" in some way or another.
Though questions about his mental health and agility are far from new, those raised by Wolff seem to have hit a nerve with the president, who on Friday suggested that Hillary Clinton, the FBI, Russia and the "Fake News Media (Mainstream)" are behind the "phony new book" as part of a conspiracy to delegitimize him.
"Sad!" Trump tweeted.
This is not the first time he's mounted a defense of his intelligence and stability that seemingly betrayed his lack thereof.
At a campaign event in December 2015, he endeavored to prove that he is "very highly educated" by telling a crowd that, "I know words. I have the best words."
Then, during a rambling debate with Clinton in September 2016, he opined that his "strongest asset, maybe by far, is my temperament" — which drew laughter from the crowd and a "whoo, okay!" from his Democratic opponent.
But those assurances have done little to allay concerns about him in Washington and beyond.
In December, a group of lawmakers — mostly Democrats with one Republican — met with a Yale psychiatrist to discuss Trump's mental health.
"He's going to unravel, and we are seeing the signs," Dr. Bandy X. Lee warned the group of the 71-year-old president.
Trump's erratic behavior — which has included, apparently, a return to the "birther" conspiracy he claimed to have disavowed and doubts about the validity of the infamous Access Hollywood tape, which he had apologized for — has led to some public chatter about the 25th Amendment, which would allow the vice president and either the majority of his cabinet or Congress to oust the president if they conclude he is "unable to discharge the powers and duties of his office."
Steve Bannon — who was disowned by Trump over comments he apparently made about him to Wolff — has said that the 25th Amendment poses the greatest challenge to Trump's presidency, at one point reportedly giving him a mere 30% chance of finishing out his first term.
But the White House has insisted that Trump is fit for office, with press secretary Sarah Huckabee Sanders telling Fox & Friends Friday that questions about the president's mental health are "absolutely outrageous."
In his totally stable tweets Friday evening and Saturday morning, Trump also mocked "Sloppy Steve Bannon," whom he said was "dumped like a dog" — whatever that means — "by almost everyone."
He also attacked journalist Brian Ross, who was suspended by ABC News in December over a reporting error about Trump; took credit for the lowest African-American unemployment rate in 45 years; and falsely claimed that the suggestion of collusion between his campaign and the Kremlin has been "proven to be a total hoax on the American public."
In defending his mental capacity, he said Democrats were "taking out the old Ronald Reagan playbook," referring to the 40th president who was believed by some — including one of his own sons — to have had Alzheimer's disease while in office.