Roy Moore accuser loses home in possible arson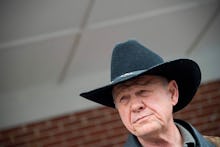 Tina Johnson — one of the women who accused failed Alabama senate candidate Roy Moore of sexual misconduct — lost her home this week in a fire that officials are investigating as a possible arson, according to reports.
The blaze, which began Tuesday morning, did not harm Johnson or her family, but reportedly destroyed her Gadsen, Alabama, house and everything in it.
"I am devastated, just devastated," Johnson told a reporter Friday morning. "We have just the clothes on our backs."
Johnson was one of several women who came forward with allegations against Moore, the extreme anti-gay Republican who ran for Attorney General Jeff Sessions' vacated Senate seat.
He was defeated by Democrat Doug Jones in an upset victory last month.
Moore was accused of pursuing sexual relationships with a number of teenage girls, and of molesting a 14-year-old when he was 32 in 1979, in an explosive Washington Post story in November.
Johnson was the ninth woman to accuse Moore of sexual misconduct, telling Megyn Kelly weeks before the election that the ex-judge had "forcefully grabbed" her rear end in 1991 after she went to his office to discuss a legal matter when she was 28.
Despite the allegations against the candidate, President Donald Trump enthusiastically endorsed him — bucking many in his own party who had called on Moore to step aside.
"Get out and vote for Roy Moore," Trump said at a rally days before the special election.
Moore has refused to concede the election, but Jones was sworn in Wednesday, making him the first Democrat to represent the state of Alabama in the Senate in 25 years.
The Johnsons are currently living in a motel following the blaze, according to reports.
The Etowah County Arson Task Force and Etowah County Sheriff's department are looking into the fire and are "speaking to a person of interest," according to a statement released by Sheriff Todd Entrekin, who noted that "the ongoing investigation does not lead us to believe that the fire is in any way related to Roy Moore or allegations made against him."