This week in Trump-Russia news: Is the case for obstruction of justice getting stronger?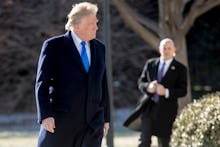 President Donald Trump — a "very stable genius" — is beginning 2018 by claiming that the Russia investigation has proven the suggestion of collusion between his campaign and the Kremlin to be a "total hoax."
But the claim that he's been cleared by the investigations would seem to be pretty far from the truth, as a new report raises significant questions about the possibility that Trump attempted to obstruct the FBI's Russia probe.
Here's what went down in the Russia saga in the first week of 2018.
Trump says investigation has "proven" no wrongdoing
Trump has recently expressed confidence that the Mueller investigation will clear him of wrongdoing — a belief that his legal team has reportedly encouraged in him.
But the president has shifted in the early going of 2018, claiming multiple times this week not that the special counsel will absolve him — but that his investigation already has.
"Now that Russian collusion, after one year of intense study, has proven to be a total hoax on the American public, the Democrats and their lapdogs, the Fake News Mainstream Media, are taking out the old Ronald Reagan playbook and screaming mental stability and intelligence," Trump tweeted Saturday. "Actually, throughout my life, my two greatest assets have been mental stability and being, like, really smart."
Republicans keep trying to "delegitimize" Russia probes
Of course, questions about collusion and obstruction of justice are anything but resolved, as evidenced by Republicans' continued attempts to undermine the probes.
For weeks, Republicans have hammered Mueller over what they say is bias on his team.
Now, they've set their sights on Christopher Steele — the former British spy who compiled the explosive dossier alleging that Russians had been "cultivating, supporting and assisting Trump" with the aim of encouraging "splits and divisions in Western alliance."
Chuck Grassley, chair of the Senate Judiciary Committee, and Lindsey Graham, one of the panel's Republican members, asked the Department of Justice and the FBI on Thursday to investigate Steele over what they say are possible false statements he made to federal agents about his contacts with the media.
The move is notable, coming as it does from two of the most prominent Republicans in the senate — one of whom, Graham, had promised "holy hell" if the president tried to interfere in the investigation.
"After reviewing how Mr. Steele conducted himself in distributing information contained in the dossier and how many stop signs the DOJ ignored in its use of the dossier, I believe that a special counsel needs to review this matter," Graham said. "The rule of law depends on the government and all who work on its behalf playing by the rules themselves."
Patrick Cotter, a former federal prosecutor, said in an email on Friday that the move by Grassley and Graham was "exceedingly weird" and appeared to be an attempt by the senators to "delegitimize anyone that brings forward evidence against the Republican administration regarding Russia."
"As with the attacks on Mueller, the tactic seems to NOT be to address the actual evidence, but rather to try to find a way to attack the messenger who brings the evidence forward," Cotter said. "The letter is a political document in my opinion, not a truly law enforcement document."
The dossier — which included the infamous allegation that the Kremlin had obtained a video of prostitutes performing a "golden shower" show for Trump in a Moscow hotel room once stayed in by Barack and Michelle Obama — has been one line of attack for Republicans seeking to undermine the Mueller probe.
Grassley, questioning former FBI Director James Comey in May, suggested that the FBI was too heavily reliant on the raw intelligence, and Republicans have argued that it was the basis for beginning the investigation in the first place.
But the New York Times reported Dec. 30 that the probe actually started when former campaign adviser George Papadopoulos — who pleaded guilty to lying to the FBI in October — drunkenly told an Australian official that Russia had dirt on Democrat Hillary Clinton.
"Sloppy Steve" calls treason on Trump campaign
Steve Bannon torched several of his former colleagues on the Trump team in comments he allegedly made to journalist Michael Wolff.
In Fire and Fury, Wolff's tell-all about the rocky start to Trump's presidency, the former chief strategist is quoted as describing the meeting Donald Trump Jr., Jared Kushner and Paul Manafort took with a Kremlin-connected attorney in 2016 as "treasonous."
Trump Jr. had taken the meeting believing that the lawyer, Natalia Veselnitskaya, had damaging information on his father's Democratic rival, it was revealed in July 2017.
Bannon — depicted in the book as the scheming, brawling mastermind controlling the puppet strings of a dizzy, profoundly ignorant Trump — apparently told Wolff that the meeting was "unpatriotic" and "bad shit," and slammed his former campaign mates for not reporting it to the FBI.
Trump turned on Bannon after the unflattering book, which hit bookshelves Friday, was excerpted in New York, the Hollywood Reporter and GQ this week.
"Steve had very little to do with our historic victory, which was delivered by the forgotten men and women of this country," Trump said in a statement Wednesday.
The president continued to attack the Breitbart head throughout the week, giving him his very own nickname — "Sloppy Steve" — and tweeting that he'd "cried" when he get fired in August and "has been dumped like a dog by almost everyone."
He has also taken to Twitter to defend his mental stability and intellectual capability, writing Saturday that he is not "smart, but genius."
Trump tried to block Sessions recusal
Trump, seeking to maintain control over the Russia investigation, pressed his top counsel to keep Attorney General Jeff Sessions from recusing himself from matters related to the probe back in in March 2017, the Times reported Thursday.
When Don McGahn failed to sway Sessions, Trump exploded: "Where's my Roy Cohn?" he asked aides, referring to his late former personal lawyer.
Sessions recused himself amid intense public pressure, following revelations that he'd had failed to disclose conversations he'd had with then-Russian ambassador Sergey Kislyak in 2016.
Trump attacked his attorney general numerous times over the summer following the decision, and told the Times in July that he wouldn't have hired the former Alabama senator had he known he'd recuse himself.
"Sessions should have never recused himself, and if he was going to recuse himself, he should have told me before he took the job, and I would have picked somebody else," Trump told reporters. "It's extremely unfair, and that's a mild word, to the president."
The Times report on Thursday raised significant new questions about possible obstruction of justice on the part of the president.
During a press conference on Saturday, Trump said the Times piece was "was way off — or at least off," but did not explain what was wrong with it.
"Everything I've done is 100% proper," Trump said. "That's what I do, is I do things proper."
He also said during the press conference that the Russia investigation is "making our country look foolish" and that while he did not collude with the Kremlin, Clinton and the Democrats did.
"Unfortunately, you people don't cover that, very much," Trump told reporters.
FBI, DOJ probe Clinton
Trump — who has repeatedly said that Clinton is the one who should be getting investigated instead of him — seems to be getting his wish granted.
The DOJ and FBI have reportedly begun probing the Clinton Foundation and the former Democratic candidate's emails once again.
Republicans had attacked Clinton throughout the campaign over her family's charitable foundation, which Trump had characterized as a "pay-to-play" organization.
Investigators are now taking another look at allegations that donors to the foundation were promised political favors from the former secretary of state and her husband, former President Bill Clinton, according to a Hill scoop Thursday.
Clinton had also come under heavy fire during the 2016 race over her use of a private email server while she oversaw the Department of State.
Comey concluded the federal probe into her email scandal in July 2016 by announcing that "no charges are appropriate," but reopened the investigation that October in a move that many, including Clinton herself, felt contributed to Trump's upset victory.
Trump, though, has maintained that the FBI investigation into his rival was "phony and dishonest" and that she is the beneficiary of a "rigged system."
Now, the Daily Beast reported Thursday, the DOJ is taking another look at Clinton's handling of classified information.
Trump's criticisms of Clinton, of course, are quite rich, given the history of his own foundation and the manner in which he and his administration has handled classified materials.
The Donald J. Trump Foundation has been criticized for self-dealing and misuse of funds, and in November 2017 the organization began the process of dissolving after being served with a cease-and-desist letter from New York Attorney General Eric T. Schneiderman in October 2016.
In May 2017, Trump came under fire for revealing "highly classified information" to Russian officials during a meeting in the Oval Office — reportedly while bragging about the quality of the intelligence he receives.
"I get great intel," Trump reportedly told Kislyak and Russian Foreign Minister Sergey Lavrov. "I have people brief me on great intel every day."
It was also revealed in September 2017 that at least six members of his own White House staff — including Kushner, Bannon and Reince Priebus — had used private email servers.
But Trump has claimed that investigators gave Clinton a pass — and has suggested that it evidences a massive conspiracy against him.
Adviser raises questions about Kushner, Eric Trump
Brad Parscale — who served as the digital director of Trump's campaign — raised questions about Kushner and Eric Trump in a tweet Saturday.
"Not one person made a decision without their approval," he wrote of the president's son and son-in-law.
The tweet appeared to be a response to Bannon's statements about the Trump family in the Wolff book — but also seemed to suggest that the two were aware of improper activities by members of the campaign, including Papadopoulos' attempts to broker a meeting between the Trump campaign and Russians and Carter Page's meetings with high-ranking Kremlin officials.
Russia probes to continue as new year begins
Though Trump is now insisting that the investigations have cleared him of wrongdoing, the probes show no signs of slowing down.
Mueller is continuing to investigate the infamous 2016 Trump Tower meeting — and appears to be probing conversations Ivanka Trump, the president's daughter and senior adviser, had with Russians who attended the rendezvous.
Meanwhile, Trump suggested Saturday afternoon in his press conference at Camp David that he may be willing to meet with Mueller.
His legal team met with the special counsel just before Christmas.
Meanwhile, Sen. Mark Warner — the top Democrat on the Senate Intelligence Committee — told Reuters Friday that his panel's probe has made progress and will keep pressing on.
"I feel very strongly that you can't, you could never conclude without the senators themselves being able to talk to the principals involved," Warner said. "We have not gotten there yet."