Trump criticizes "very weak libel laws" in press conference blasting "phony" 'Fire and Fury' book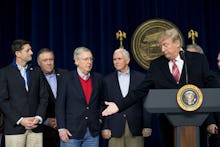 President Donald Trump launched another attack on the free press during a Camp David press conference on Saturday, bemoaning "weak" libel laws in response to a question about Michael Wolff's explosive book on his chaotic White House.
"I think it was a disgrace that someone's able to have something, do something like that," Trump said of Wolff's book, Fire and Fury. "The libel laws are very weak in this country. If they were strong, it'd be very helpful. You wouldn't have things like that happen, where you could say whatever comes to your head."
Trump has been in damage control mode all week as excerpts of Wolff's tell-all, which hit bookshelves on Friday, painted a portrait of him as a profoundly childish, erratic and incompetent president — and of his administration as one beset by chaos and infighting.
He has criticized the book as "phony" and on Saturday said the way he was characterized in the book was false, tweeting that he is a "very stable genius."
"Throughout my life, my two greatest assets have been mental stability and being, like, really smart," Trump tweeted.
Flanked by Vice President Mike Pence and other Republican leaders Saturday afternoon, Trump again attacked the book and its author, calling Fire and Fury a "work of fiction." He also defended his intelligence once again, telling reporters that he "went to the best colleges for college" and "had a situation where I was a very excellent student."
In addition to Wolff's book, Trump on Saturday criticized the New York Times for reporting Thursday that he pushed White House counsel Don McGahn to keep Attorney General Jeff Sessions from recusing himself from matters relating to the Russia investigation in early 2017.
"The story, by the way, in the Times was way off — or at least off," Trump said. "Everything I've done is 100% proper. That's what I do, is I do things proper."
When asked what was wrong with the story, he responded simply: "You'll find out."
Trump frequently attacks the media, dubbing reports and outlets he considers unfavorable to him "fake news."
In 2016, he said he would like to "open up" libel laws in the country — something Reince Priebus, then White House chief of staff, said in April 2017 is something "we've looked at" doing.
Of course, the president has limited legal ability to go after journalists for critical coverage. But he has been known to single out reporters, who have said they've faced threats from his supporters after he called them out.
The Maryland press conference Saturday began largely on script, with Trump and Republican leaders talking up their accomplishments in 2017 and the broad strokes of their plans for the year ahead.
But when the president opened things up for questions, the conversation shifted away from his 2018 resolutions to the Wolff book, "Sloppy Steve" Bannon and the Russia investigation.
He repeated that there was "no collusion" between his campaign and Russia, but that Democrat Hillary Clinton had colluded with the Kremlin.
"Unfortunately, you people don't cover that, very much," Trump said.
Despite his claims otherwise, the question of collusion between his team and the Russians is not "dead." Special counsel Robert Mueller has already brought down four former Trump associates, including former campaign manager Paul Manafort and former national security adviser Michael Flynn, in an investigation that is expected to continue deep into 2018 — if not longer.
"It's making our country look foolish," Trump said of the investigation Saturday. "And this is a country I don't want looking foolish. And it's not going to look foolish as long as I'm here."