Hype List: What to check out this week, including 'Electric Dreams', Camila Cabello and more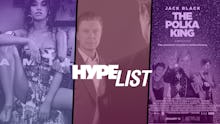 Welcome to the Hype List, a weekly recommendation series in which columnist Tirhakah Love highlights all of the pop culture happenings — movies, music, television, books and more — you need to know about.
TV: Philip K. Dick's Electric Dreams
Amazon Video has already had success with one series based on the work of Philip K. Dick (The Man in the High Castle), and now the streaming service is presenting another. Unlike its predecessor, though, Philip K. Dick's Electric Dreams doesn't tell a single linear narrative; it's an anthology series that draws on the late sci-fi writer's short stories to ask large and looming questions about humankind's future. Comparisons to Black Mirror are inevitable, but what sets Electric Dreams apart from not only its Netflix rival, but from pretty much every other anthology series on TV, is the fact that every single episode features a different creative team and thus, a different creative vision.
Among the personnel involved in front of and behind the screen: Bryan Cranston, Janelle Monáe, Terrence Howard, Anna Paquin, Steve Buscemi, Mudbound auteur Dee Rees and Game of Thrones director Alan Taylor. Despite the standalone installments, there are themes that recur. Across its 10 episodes, Electric Dreams delves into complicated questions of humanity, civil rights, morality and technology, exploring what it means to live in a dystopian time.
Philip K. Dick's Electric Dreams will be released on Amazon Video Friday.
Movie: The Polka King
Jack Black may have made his career with broad, outlandish comedic performances, but the 48-year-old multi-threat has also played a fair share of dramatic roles. In Maya Forbes' The Polka King, Black splits the difference, playing a kind of farcical representation of real-life con man and polka bandleader Jan Lewan.
Based on the 2009 documentary The Man Who Would Be Polka King, this Netflix original film follows Black's Lewan as the Polish immigrant chases his own vision of the American Dream by heading up a Ponzi scheme, fleecing scores of people out of their money. The fast-paced and funny crime flick is so bizarre that, at times, it's hard to even believe it's inspired by a true story. But if Black's frantic star turn tells us anything, it's that the truth doesn't matter as much as the hustle you put forth.
The Polka King will be released on Netflix Friday.
Music: Camila by Camila Cabello
Over the past few years, Camila Cabello has built herself quite the resume. A brief rundown: two albums as a member of Fifth Harmony that peaked in the top 10 of the Billboard 200 chart; hit collaborative singles with Shawn Mendes and Machine Gun Kelly; a more recent team-up with Major Lazer, Travis Scott and Quavo; and a slot opening for Bruno Mars during the summer 2017 stretch of his ongoing world tour.
Now, a little more than a year after parting ways with Fifth Harmony, the Cuban-born singer is finally ready to release her debut solo album. And the record — simply dubbed Camila — already has some healthy momentum behind it, seeing as the lead single, the Young Thug-featuring "Havana," is sitting near the top of the Hot 100 chart. Cabello's shine has never been this bright, so bet on Camila being the first major pop event of 2018.
Camila will be released Friday via Epic Records.
TV: David Bowie: The Last Five Years
While he was alive, David Bowie's M.O. was primarily about separating himself from the rest of the world. Musically, aesthetically — Bowie seemed to be tuned into a signal from an entirely different planet. In this BBC documentary, which HBO is airing, we get a glimpse at what went into the making of the Starman's last messages. Director Francis Whatley — who also helmed 2013's David Bowie: Five Years doc, which covered five earlier years of the musician's career — speaks with Bowie's collaborators on 2013's The Next Day and 2016's Blackstar, as well as the Lazarus stage production.
Footage of the late icon himself is of course mixed in, but the focus is on the work, Bowie's influences and the songs he wanted to leave us with before his death. The Last Five Years is an easy recommendation for Bowie fans but, really, it's not just for longtime disciples. It's notable for being a rumination on what it means to be an artist, to truly see the universe through a different lens and to leave behind a legacy.
David Bowie: The Last Five Years airs on HBO Monday.