Steve Bannon apologizes for comments about Donald Trump, Jr., shows support for Trump's presidency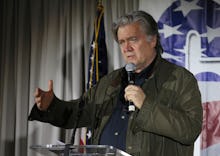 Following a week of intense backlash from those still loyal to President Donald Trump, former White House adviser Steve Bannon is now apologizing for his damning on-the-record quotes in Michael Wolff's Fire and Fury.
According to Axios, Bannon is sorry about the comments he made about Donald Trump, Jr., in Wolff's book, which paints an unflattering picture of the Trump administration's early days. In the book, Bannon is quoted as saying that Trump Jr.'s meeting with a Russian lawyer during the presidential campaign was "treasonous" and "unpatriotic" and predicted that "they're going to crack Don Junior like an egg on national TV."
The former adviser sought to provide new context on his remarks to Wolff in a statement to Axios, writing: "Donald Trump, Jr. is both a patriot and a good man. He has been relentless in his advocacy for his father and the agenda that has helped turn our country around."
Bannon claimed his comments about the Russian meeting were instead aimed at former campaign adviser Paul Manafort, rather than the president's son.
"My comments were aimed at Paul Manafort, a seasoned campaign professional with experience and knowledge of how the Russians operate. He should have known they are duplicitous, cunning and not our friends," Bannon said. "To reiterate, those comments were not aimed at Don Jr."
"I regret that my delay in responding to the inaccurate reporting regarding Don Jr has diverted attention from the president's historical accomplishments in the first year of his presidency," Bannon continued.
Though Bannon also suggested in the book that Trump had knowledge of the meeting — telling Wolff that "the chance that Don Jr did not walk these jumos up to his father's office on the twenty-sixth floor is zero" — the former adviser also told Axios he did not believe there had been any collusion between the Russians and the Trump campaign.
"Everything I have to say about the ridiculous nature of the Russian 'collusion' investigation I said on my 60 Minutes interview. There was no collusion and the investigation is a witch hunt," Bannon said.
The Trump administration has turned against former ally Bannon after the Guardian published excerpts of Bannon's comments in the book Wednesday. Trump has been quick to lash out at Bannon, nicknaming him "Sloppy Steve" and claiming that Bannon had "lost his mind" upon leaving the White House in a statement.
Policy adviser Stephen Miller described Bannon's comments as "grotesque" in an interview on CNN Sunday and said his role in the White House had been "greatly exaggerated," while Donald Trump, Jr., too, had harsh words to say about Bannon on Twitter.
"Steve had the honor of working in the White House and serving the country," Trump Jr. tweeted Wednesday. "Unfortunately, he squandered that privilege and turned that opportunity into a nightmare of backstabbing, harassing, leaking, lying and undermining the president. Steve is not a strategist, he is an opportunist."
Bannon, however, still has complimentary words for the president and his agenda, saying his support for Trump is "unwavering."
"My support is also unwavering for the president and his agenda — as I have shown daily in my national radio broadcasts, on the pages of Breitbart News and in speeches and appearances from Tokyo and Hong Kong to Arizona and Alabama," Bannon said.
"President Trump was the only candidate that could have taken on and defeated the Clinton apparatus," Bannon continued. "I am the only person to date to conduct a global effort to preach the message of Trump and Trumpism; and remain ready to stand in the breech for this president's efforts to make America great again."