Major Democratic donor threatens to pull funding from senators who called for Franken's resignation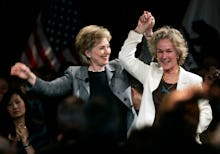 Sen. Al Franken has resigned from the Senate amid allegations of sexual harassment — and calls from his colleagues for him to step down. Now, a major Democratic donor is saying those senators may have to pay a price for pressuring him to resign.
Susie Tompkins Buell, a liberal mega donor who primarily supports female politicians, said in interviews with Buzzfeed and the New York Times that she is reconsidering her financial support of politicians who called for Franken's resignation, a move that she considered to be "unfair," "cavalier" and a "stampede."
"For me this is dangerous and wrong," Buell told the New York Times, saying that the senators "moved too fast" in condemning Franken.
"I am a big believer in helping more women into the political system but this has given me an opportunity to rethink of how I can best help my party."
Buell, a founder of the clothing brand Esprit, currently supports nearly every female politician in the U.S. Congress, Buzzfeed noted. Her funding pull would would primarily affect female senators such as Sen. Kirsten Gillibrand (D-N.Y.), whom Buell singled out in particular.
"As for Gillibrand, unfortunately, I believe she miscalculated and has shot herself in the foot," Buell told the Times. "I have supported her for many years. Will I going forward? To be determined."
Gillibrand was one of more than two dozen Democratic senators to call for Franken's resignation following the allegations against him and helped to lead a coordinated response among the U.S. Senate's female politicians. The calls for him to resign came before the Senate Ethics Committee could conclude its investigation into Franken's alleged wrongdoing.
"While Senator Franken is entitled to have the Ethics Committee conclude its review, I believe it would be better for our country if he sent a clear message that any kind of mistreatment of women in our society isn't acceptable by stepping aside to let someone else serve," Gillibrand wrote in a statement, as quoted by CNN.
Buell's funding threat, however, now comes as some Senate Democrats are rethinking their decision to call for Franken's resignation.
"I have stood for due process throughout my years as a prosecutor and in chairing the Judiciary Committee," Vermont Sen. Patrick Leahy said in a statement quoted by the Burlington Free Press. "I regret not doing that this time. The Ethics Committee should have been allowed to investigate and make its recommendation."