Mic Wakeup: Monday and Fury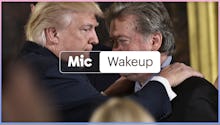 Welcome back to the work week. If you're anyone but Steve Bannon, odds are you've got a lot to be excited about in the next five days. And if you're the president's beleaguered former adviser, well ... maybe manage those expectations. Here's everything you need for Monday, Jan. 8.
It's Stephen Miller time
Stephen Miller, senior policy adviser to President Donald Trump, stopped by CNN on Sunday morning to talk about the fallout from Fire and Fury, the explosive inside look at the Trump White House that's taken all of Washington by storm. It could have been a friendly chat between Miller and Jake Tapper, host of State of the Union. It ... got awkward. Fast. We broke down the trainwreck, blow-by-blow, here.
Backpedallin' Bannon
On Sunday, while the rest of us had eggs and toast, Stephen Bannon ate crow for brunch. In an Axios exclusive, the former Trump aide apologized to the president's family — in particular, Donald Trump, Jr. — for suggesting that an intensely scrutinized meeting with a Kremlin-linked lawyer during the Trump campaign was, in Bannon's words, treason. The fallout from Bannon's remarks, which were made public in the leadup to Fire and Fury's publication, was swift and immense. Here's how Bannon backpedalled — and whom he threw under the bus in an apparent attempt to cut his losses.
The famous Button tweet, "explained"
U.S. Ambassador to the United Nations Nikki Haley may have her work cut out for her. On Sunday, she attempted to explain why Trump tweeted his now-infamous "nuclear button" tweet, which critics seized upon as a sign that the president was mentally unfit for office. But though it seemed like madness to some, Haley insisted that there was method to it.