In a show of solidarity, the women of the 2018 Golden Globes paint the red carpet black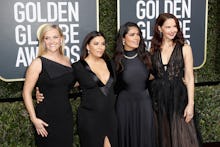 The last few months have rocked the Hollywood establishment, as brave women opened up about a culture of harassment and abuse and named the men who've perpetuated it for so long. Seizing on a cultural moment that's echoing far beyond Hollywood, the women behind Time's Up organized a blackout of the 2018 Golden Globes red carpet. In a sign of solidarity with victims of sexual harassment in the entertainment industry and beyond, the women of Hollywood lit up the night in every shade of black.
It's still the Golden Globes: The stars on the carpet are glittering and the drinks will be flowing inside the Beverly Hilton. But the night is no ordinary red carpet, and the statements from the stars have reflected that.
Unsurprising for anyone who follows her on Twitter, Debra Messing was the first actress to go there.
"I'm wearing black to thank and honor the brave whistleblowers who came forward to share their stories of harassment and discrimination," Messing told E! News' Giuliana Rancic. "I'm wearing black to stand in solidarity with my sisters all over the world and to celebrate the roll out of this powerful initiative."
She also didn't shy away from sharing her feelings on recent revelations about pay disparity at the network, even while she was being interviewed on that network. "I was so shocked to hear that E! doesn't believing in paying their female co-hosts the same as their male co-hosts," Messing said. "I miss Catt Sadler."
Dress color aside, the biggest trend on the red carpet was Hollywood actresses sharing their platform with special guests. In a welcome change from the usual red carpet patter, each actress stepped aside to let the activists speak. Meryl Streep brought Ai-jen Poo, director of the National Domestic Workers Alliance. Laura Dern brought Monica Ramirez, co-founder of Alianza Nacional de Campesina and advocate for women in farmwork. Emma Watson's guest, Marai Larasi, is the executive director of Imkaan, and a black feminist activist in the U.K. Most notably, Michelle Williams brought Tarana Burke, founder of the #MeToo movement.
"We're saying women in Hollywood have an opportunity to amplify the voices of other women," Burke told Ryan Seacrest on the red carpet.
As Seacrest interviewed Michelle Williams, she drew attention to the work Burke has been doing and "the work I am learning to do." Sarah Jessica Parker made similar remarks, thanking the activists who have come before her. The work of activism continues after Sunday night, work that was started by these activists far from the red carpet. It was encouraging to hear the stars acknowledge that.
Kelly Clarkson in Christian Siriano
Debra Messing in Christian Siriano
Michelle Williams in Louis Vuitton & Tarana Burke
Meryl Streep in Vera Wang & Ai-jen Poo
Angelina Jolie in Versace
Laura Dern in Armani Prive
Tracee Ellis Ross in Marc Jacobs
Ryan Michelle Bathe in Dolce & Gabbana
Issa Rae in Prabal Gurung
Alicia Vikander in Louis Vuitton
Chrissy Metz
Alison Brie
Laurie Metcalf in Sachin & Babi
Kerry Washington in Prabal Gurung
Halle Berry in Zuhair Murad
Connie Britton in Lingua Franca and Max Mara
Greta Gerwig
Diane Kruger
Caitriona Balfe
Emma Stone in Louis Vuitton and Billie Jean King
America Ferrera in Christian Siriano & Natalie Portman in Dior
Sarah Jessica Parker in Dolce & Gabbana
Jessica Biel in Dior
Zoë Kravitz in Saint Laurent
Marai Larasi & Emma Watson
Saoirse Ronan in Versace
Mariah Carey in Dolce & Gabbana
Kate Hudson in Valentino
Reese Witherspoon in Zac Posen & Eva Longoria in Genny
Emilia Clarke
Mary J. Blige in Alberta Ferretti
Amy Poehler & Saru Jayaraman
Gal Godot in Tom Ford
Viola Davis in Brandon Maxwell
Rachel Brosnahan in Vionnet
Nicole Kidman in Givenchy
Millie Bobby Brown in Calvin Klein
Octavia Spencer
Catherine Zeta-Jones in Zuhair Murad
Sharon Stone in Vitor Zerbinato
Shailene Woodley
Margot Robbie in Gucci
Oprah Winfrey in Versace