Time's Up pins flood the Golden Globes 2018 red carpet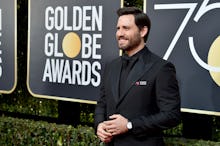 While black gowns, pant suits, tuxedos and ties were the norm on the 2018 Golden Globes red carpet, so too was the presence of a tiny, yet unmistakable pin emblazoned with the words: TIME'S UP.
Similar to the Oscars blue ribbon, the pin, designed by costume designer and stylist Arianne Phillips, was the must-have accessory for this year's distinct carpet — one with an explicit message of solidarity with the #MeToo movement.
Though Sarah Jessica Parker, Missi Pyle, Chrissy Metz and a number of other actresses dawned the pin, it was largely the men with it fashioned atop their suits. (This makes sense, men typically wear black to award shows, so this show of solidarity for them was a more overt gesture).
From nominees Steve Carrel and Daniel Kaluuya, to Hollywood heavyweights Joseph Fiennes to Ewan McGregor, to host Seth Meyers, the ubiquity of the Time's Up pin was a sight to behold. Check out some of the men below:
Jude Law
Steve Carell
Aziz Ansari
James Franco
Gary Oldman
Tom Hanks
Miguel Gomez
Chris Hemsworth
Joseph Fiennes
Nnamdi Asomugha
Sebastian Stan
Daniel Kaluuya
Armie Hammer
Seth Rogen
Nick Jonas
David Harbour
Alexander Skarsgard
Justin Timberlake
Seth Meyers
Norman Reedus
Jason Ralph
William H. Macy
Christian Slater
Finn Wolfhard
Bradley Whitford
Ewan McGregor
O-T Fagbenle
Gaten Matarazzo
Noah Schnapp
David Thewlis
Edgar Ramirez
Billy Eichner
Martin McDonagh
Freddie Highmore