Golden Globes 2018: Debra Messing called out E!'s gender wage gap — while being interviewed by E!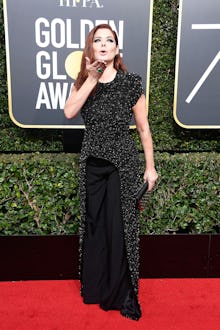 Debra Messing has no time for your hypocrisy.
On the red carpet ahead of the 75th annual Golden Globe awards Sunday night, Messing didn't mince words when it came time to talk about the biggest trend at this year's ceremony: wearing black in support of the #MeToo movement and the Time's Up initiative.
During her red carpet interview with E! host Giuliana Rancic, Messing mentioned Time's Up, the recently announced initiative that seeks to end sexual harassment and gender discrimination in Hollywood. As an example of the kind of behavior that needs to end, Messing brought up E!'s own problems with treating its female employees fairly. Specifically, she mentioned Catt Sadler, the former E! News host who announced she left the network in December after discovering her co-host, Jason Kennedy, was making "close to double" her salary for several years.
Here's a clip of the moment, tweeted by BuzzFeed editor Jarett Wieselman:
"We want diversity, we want intersectional gender parity, we want equal pay — and, you know, I was so shocked to hear that E! doesn't believe in paying their female co-hosts the same as their male cohosts," Messing said. "I mean, I miss Catt Sadler — so, we stand with her. And that's something that can change tomorrow. We want people to start having this conversation that women are just as valuable as men."
After Sadler announced the reason for her departure, E! said it "compensates employees fairly and appropriately based on their roles, regardless of gender." Sadler called E!'s decision "almost insulting" and "heartbreaking."