We need to talk about Winona Ryder's Golden Globes "comeback"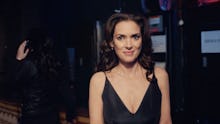 During everyone's favorite sporting event of the year, the Golden Globes, one ad break took me on a journey from curiosity to surprise to disappointment and then immediately to Twitter.
The ad opens with a nervous ingenue pacing her dressing room, her face obscured by a lustrous mane. She wrings her hands waiting to take the stage, studies her lines; nothing can calm her nerves. She strokes her perfect locks to take the edge off. Her gleaming auburn tresses tickle her bare shoulders as she considers her blurry face in the mirror. Who is she? Does even she know? A love note from an supporting friend does nothing to reassure her, and her hands retreat to her head; her perfect hair her only true comfort.
It's showtime. As we hear what could have been a song plucked from The Greatest Showman's cutting room floor, the camera spins to reveal our fetching young star as none other than Hollywood legend and style icon Winona Ryder.
"Everyone loves a comeback," the text onscreen reads.
"What's this new project Winona has cooking?" I thought. "I can't wait to support it with my time and money."
"Damaged hair deserves one too," comes the tag onscreen. It's a commercial for L'Oreal's damage-repairing Elvive line.
Never in my life have I felt more hoodwinked by a shampoo ad. It was at this point my own healthy hair became extremely damaged, as I yanked it wildly while I gnashed my teeth and howled at the TV. This shampoo ad made me feel feelings against my will.
With her "comeback" ad, Winona Ryder joins the ranks of other Elvive's ambassadors, among them Camilla Cabello and Aja Naomi King.
If the name Elvive is ringing any bells, it's probably because it's not the first time this brand's caused a strong reaction on social media. As BET reported in December, Elvive's tone deaf Instagram post that stated 'healthy hair doesn't tangle when brushed' caused understandable pushback from women with hair textures other than pin straight.
While it's true that I do love a comeback, and I am thrilled that my beloved Winona Ryder is getting that L'Oreal coin, I will not be toyed with. Either use the Golden Globes to shill your drug store shampoo, or announce that Ryder is starring in a limited run on Broadway. Don't mix the two, and don't play with my blood pressure like this.
It is with a heavy heart that I must announce Roman Coppola, the director of this ad, just earned a prominent spot on my Very Personal Enemies list for putting my spirit through the wringer when I'm just trying to enjoy my sports.
Winona, your hair looks amazing.