Give Oprah another Golden Globe for her Cecil B. Demille speech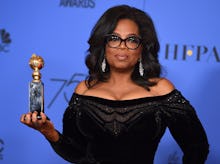 When the church of Oprah Winfrey is in session, you'd better shut up and listen.
In a stirring speech following her acceptance of the Cecil B. DeMille Award during Sunday night's 75th Golden Globes, Winfrey reflected on our current cultural moment and how it relates to her decadeslong career.
"At this moment, there are some little girls watching as I become the first black woman to be given this award," Winfrey said of the lifetime achievement award. "I want all the girls watching to know: A new day is on the horizon."
In her powerful remarks, Winfrey also reached far back into history to tell the story of Recy Taylor, a black woman who was gang raped by six white men in 1944. Taylor, she said, had died just 10 days prior to Sunday's ceremony — but not before witnessing a plentiful crop of alleged assaulters and men in Hollywood topple from their vaunted perches.
"But their time is up," Winfrey said, referring to men who abuse their power and privilege. "And I just hope that Recy Taylor died knowing that her truth, like the truth of so many other women who were tormented in those years and even now tormented, goes marching on."
In a ceremony rife with historic firsts — with actresses draping themselves in black to honor the women brave enough to say "Me too," and people of color clearing historic milestones for the first time — Winfrey's acceptance of the lifetime achievement award was the cherry on top.
As her speech gave way to a standing ovation, Winfrey repeated her unfaltering refrain, "Their time is up. Their time is up."