Natalie Portman makes scathing dig at the Golden Globes' all-male directors' category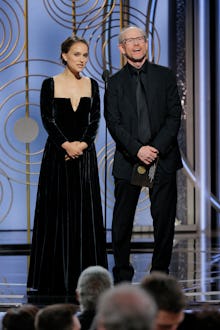 Actress Natalie Portman set the Golden Globes aflame Sunday night with a single, cutting, seemingly off-the-cuff comment when she helped present the award for best director of a motion picture drama alongside Ron Howard.
"We are honored ... to be here to present the award for best director," Howard said when he walked onstage, just moments after Oprah Winfrey delivered a passionate speech about women breaking boundaries in industries dominated by men.
"And here are the all-male nominees," Portman quipped.
Here's a clip of the exchange, tweeted by BuzzFeed reporter and editor David Mack.
Howard's reaction — a low chuckle in combination with a "yeah, fair," sort of knowing nod — made the moment feel as though it was genuinely improvised, rather than a rehearsed bit.
Guillermo del Toro went on to win the award for Shape of Water, but seemingly all anyone could talk about on Twitter was Portman's scathing joke, including actors Amber Tamblyn and Gina Rodriguez.
Portman's comment was just one of countless moments dedicated to highlighting gender inequity in Hollywood on Sunday. Before the ceremony started, the red carpet was flooded with the black gowns donned by nearly every actress in attendance, a move meant to draw attention to the #MeToo movement and the Time's Up initiative. Men wore pins with the words "TIME'S UP."
Jan. 8, 2018, 12:50 a.m.: This story has been updated.