Calls to question Donald Trump's "very stable genius" continue to grow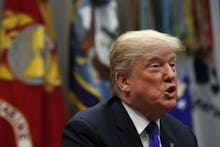 Welcome to Mic's daily read on Donald Trump's America. Want to receive this as a daily email in your inbox? Subscribe here.
Monday's dispatch: Everyone is talking about Trump's "genius"
Since Donald Trump was inaugurated, there have been calls to remove him based solely on the charge he is unfit to serve.
The 25th Amendment allows for a president to be removed over his lack of fitness to hold the office. Trump's vice president and a majority of the Cabinet would have to deem the president unfit to serve. Given the loyalty Vice President Mike Pence and Cabinet members have shown Trump, that is extremely unlikely.
But that does not mean the argument Trump is unfit to serve will not continue to gain traction. Questioning his mental health was long dismissed by many, including Democratic leaders, as the wrong path of opposition to pursue early in Trump's presidency.
After Trump's tweets over the weekend, that position may be changing.
Continued buzz about Michael Wolff's Fire and Fury: Inside the Trump White House book — which quotes White House officials allegedly questioning Trump's mental health — led the president to defend himself on Twitter. "Throughout my life, my two greatest assets have been mental stability and being, like, really smart," he tweeted. Trump added he was not only a "genius," but a "very stable genius at that!"
This led to two days of increased questioning about his mental state.
"President Trump's fitness for office is now the top story in the country," CNN's Brian Stelter said in a TV segment Sunday summarizing the news cycle. "Reporters, some lawmakers, are openly talking about the president's mental stability." Earlier Sunday on CNN, White House policy adviser Stephen Miller got highly combative with CNN's Jake Tapper over Trump's mental fitness — with Miller seemingly trying to please the watching president.
World leaders and Republicans are wondering about Trump's mental capacity. Rep. Adam Schiff (D-Calif.), the ranking member on the House Intelligence Committee, said that at least privately, most members of Congress are concerned with Trump's mental state. Democrats have backed legislation calling for an evaluation of Trump's ability to serve as president.
Calls are also growing from leading psychiatrists for a fair evaluation of Trump's mental state. Those medical professionals are breaking the "Goldwater rule," a policy of the American Psychiatric Association that its members not publicly weigh in on the mental fitness of a public figure.
On Friday, Trump will receive his first physical since taking office. That exam is likely to reveal little, if anything, about his mental state. But the results of past presidential physicals have been released publicly, which likely means Trump's doctors will have an opportunity to refute claims that he's unstable.
Don't expect questions about Trump's mental health to go away. And if Democrats win the House in the fall, expect that questioning to turn into congressional inquiries.
Today's question: Is the focus on Trump's fitness for office important? Or is it a distraction?
Please email us at trumpsamerica@mic.com with your thoughts.
This week in Trump's America:
Trump starts his day at 11 a.m.: Axios reported Trump typically spends 8 a.m. to 11 a.m. in his White House residence making phone calls, watching TV and tweeting.
Congress: With the House returning this week, Congress is again up against a deadline to keep the government open and advance a host of other legislative priorities. Government funding will dry up on Jan. 19 if no action is taken.
House Democrats are firm in their demand that recipients of the Deferred Action for Childhood Arrivals program be protected from deportation as part of any spending deal. The House will also work this week on reauthorizing the Foreign Intelligence Surveillance Act, a thorny process, as the legislation raises privacy concerns among conservatives and liberals alike.
2018 agenda: Senate Majority Leader Mitch McConnell (R-Ky.) reiterated Saturday that he wants 2018 to be a year of "bipartisan cooperation," placing focus on passing legislation to invest in U.S. infrastructure.
In a bid to become the National Rifle Association of the left, the American Civil Liberties Union plans to spend $25 million in the 2018 midterm elections, Politico reported.
Immigration: In a meeting Tuesday about immigration at the White House, Trump will likely continue his calls for border wall funding in exchange for protection of DACA recipients. On Friday, the Trump administration asked Congress for $18 billion to build a portion of the southern border wall.
In the first three months of fiscal year 2018, the United States admitted 5,000 refugees — a drop off in the same time period from the pre-Trump rate when the U.S. accepted 100,000 annually.
Russia inquiry: Discussions have begun between Trump's legal team and special counsel Robert Mueller to have Trump interviewed by Mueller as part of the investigation into Russian influence of the 2016 presidential election.
Sexual harassment: Women who attended the 2018 Golden Globes wore black to show their solidarity with the #MeToo movement.
Oprah 2020? After an acceptance speech at the Golden Globes highlighting female and minority empowerment, speculation exploded that Oprah Winfrey could run for president in 2020. She said she's not interested; her partner said Winfrey would do it.
Democratic dysfunction: Susie Tompkins Buell, a top Democratic party donor, said she is reconsidering her support for party leaders after Sen. Al Franken (D-Minn.) swiftly resigned over allegations of sexual misconduct.
ICYMI: Sens. Lindsey Graham (R-S.C.) and Chuck Grassley (R-Iowa) called on Friday for the author of the Trump-Russia dossier, a former British spy, to be investigated by the FBI.
Over the weekend, Steve Bannon apologized for his comments, quoted in Fire and Fury, about Donald Trump Jr.
Trump's tweet about Kim Jong Un's nuclear button is part of a strategy to keep the North Korea leader "on his toes," U.S. Ambassador to the United Nations Nikki Haley said.
Today's MicBite:
The latest in Mic's #WalkingWhileTrans series, this video explores how a Brooklyn organization teaches women to embrace their femininity for their own safety. Click or tap below to check it out.
Welcome to Mic's daily read on Donald Trump's America. Want to receive this as a daily email in your inbox? Subscribe here.
Correction: Jan. 8, 2018