Government shutdown odds grow as Trump demands $18 billion in border wall funds in exchange for DACA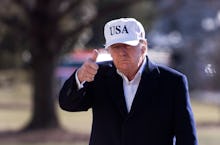 Both chambers of Congress return to Washington, D.C., this week, and will immediately face an urgent deadline to fund the government before the current spending bill expires on Jan. 19.
The odds of a government shutdown increased over the weekend, after President Donald Trump told Congress that he is demanding $18 billion in funds for a border wall between the United States and Mexico before he agrees to a deal on the Deferred Action for Childhood Arrivals program.
The DACA program — which allows undocumented immigrants brought to the country as minors to continue to attend school and legally work in the U.S. — will expire in March, per Trump's order in September, if Congress doesn't reach a deal.
Meanwhile, Democrats are being pressured to use their leverage in the government funding debate to force a deal on DACA.
"Democrats have made it abundantly clear that they oppose President Trump's rash decision to end DACA protections for Dreamers," the Center for American Progress Action Fund — a liberal group — wrote in a letter on Monday. "But saying you support Dreamers just isn't enough — not when DACA recipients are losing protection every day and hundreds of thousands of Dreamers live in perpetual fear of what the future holds."
The letter goes on to say that, "Democrats should refuse to offer any votes for Republican spending bills that do not offer a fix for Dreamers and instead appropriate funds to deport them."
Senate minority whip Sen. Dick Durbin (D-Ill.), an original co-sponsor of the Dream Act, which seeks to protect the class of immigrants covered by DACA, suggested in a statement on Friday that he is willing to force a government shutdown over DACA.
"President Trump has said he may need a good government shutdown to get his wall. With this demand, he seems to be heading in that direction," Durbin said.
"I've been clear from the beginning that Senate Democrats will consider reasonable border security measures in order to pass the Dream Act into law," Durbin continued. "The Trump Administration set this crisis in motion when it ended DACA four months ago. It's outrageous that the White House would undercut months of bipartisan efforts by again trying to put its entire wish list of hardline anti-immigrant bills — plus an additional $18 billion in wall funding — on the backs of these young people."
Rep. Joaquín Castro (D-Texas) also said on MSNBC Sunday night that Democrats should withhold votes from a government funding bill if it includes wall funding.
"I will certainly vote against it, and I know most Democrats will vote against it," Castro said, referring to a government funding bill.
If the government shuts down over wall funding and DACA, it's unclear which party will shoulder the blame. Republicans currently have unified control of Washington. A fix for DACA is overwhelmingly popular among the U.S. electorate, while funding for the wall is not.