Not everyone you like has to run for president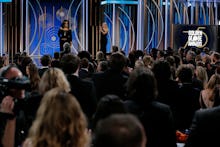 Daytime TV host-turned-media mogul Oprah Winfrey accepted the Cecil B. DeMille Award at Sunday's Golden Globe Awards. The statuette honored Oprah's innumerable contributions to show business. But her acceptance speech eschewed entertainment for a more political message.
"I want all the girls watching here, now, to know that a new day is on the horizon!" Oprah told the fawning, at-times tearful audience of Hollywood power players gathered at the Beverly Hilton. "And when that new day finally dawns, it will be because of a lot of magnificent women ... fighting hard to make sure that they become the leaders who take us to the time when nobody ever has to say 'Me too' again."
The stirring speech augmented a night rife with speculation — mostly joking, seemingly earnest in flashes — that Oprah should run for president of the United States. The logic seemed to be that she is universally beloved, wise and, at the very least, an upgrade over Donald Trump.
These are not good enough reasons to run for president. Don't ask Oprah to run for president.
At the risk of taking these calls too seriously, it's worth stating that the American electorate should avoid pressuring celebrities with no relevant political experience into gunning for the White House simply because they are popular. Seth Meyers, who hosted Sunday's ceremony, reminded the audience how high the stakes can be, alluding to speculation that Trump decided to run as a vendetta against the late night TV host.
"In 2011, I told some jokes about our current president at the White House Correspondents Dinner, jokes about how he was unqualified to be president," Meyers said during his opening monologue. "And some have said that night convinced him to run. And if that's true, I would just like to say Oprah you will never be president."
Oprah, for her part, has insisted that a bid for the White House was never in the cards for her. But her partner, Stedman Graham, stoked conjecture nonetheless. "It's up to the people," he told the Los Angeles Times. "She would absolutely do it."
It is possible that as many Americans would gravitate toward Oprah's popularity and presumably progressive vision as backed Trump's questionable business acumen, misogyny and monstrous policies around immigration, health care and national security. But even in years when presidential administrations aren't flouting political norms and undermining the democratic institutions they're tasked with preserving for their own financial profit, it remains that the presidency is, at its core, a corrupting influence.
Americans have seen this in action. By most apparent accounts — his open love for family, his thoughtfulness, his efforts to promote equity through expanded healthcare access and stated desire to bridge racial chasms — Barack Obama is a decent person.
Here are some of the things Obama did when he was in the White House: He oversaw the deportation of more than 2.5 million people, the highest recorded number of any president in U.S. history. He killed thousands more in drone strikes across Africa, the Middle East and South Asia, including more than 100 known civilians. He vastly expanded the federal government's surveillance of citizens. And he consciously avoided talking about race in ways that would indict white supremacy, opting instead to reprimand its black victims for failing to take responsibility for their lot.
Comedian and podcast host Desus Nice captured the dynamic succinctly on Twitter.
"Y'all want Oprah to be president without realizing that also means you want Oprah calling in drone strikes," he wrote.
Being president of the United States means safeguarding a vast imperial power whose capacity for global destruction is unprecedented in human history. It means preserving a country that owes its existence to land theft, slavery and forced displacement of indigenous peoples. To upend these core values would be incongruous with the office itself. To be president, by definition, means keeping the machine moving and making sure it doesn't shut down.
Even Oprah Winfrey, powerful though she may be, would be hard-pressed shirking this obligation — nor is it clear that she would want to. But she doesn't need the keys to the White House to be a positive influence on her fans, or to wield real political power. All leaders aren't presidents, nor should they be. So don't ask Oprah to run. Sometimes, it's OK just to like someone.