These 7 Democratic primaries could determine the future of progressive politics in America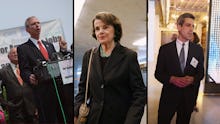 The 2018 midterm elections are already shaping up to be a good year for Democratic candidates, with a series of Republican retirements and an ignited base. Many Democrats are hopeful that their party can retake the House of Representatives, take control of state governments and maybe even reclaim the Senate.
As the party looks to try and claim a decisive victory over their Republican opponents, they'll first have to iron out their own internal issues in a series of Democratic primaries around the country. Those primaries will likely determine the fate of the growing progressive movement, and its role either within or outside of the Democratic Party beyond 2018.
Here are seven key primary races that could help shape the future of that movement.
Illinois 3rd Congressional District
Illinois' 3rd Congressional District is represented by an anachronism. Democratic Rep. Dan Lipinski is perhaps the only national Democrat in the country who can boast such bona fides as co-chairing the House Pro-Life Caucus, repeatedly voting against funding Planned Parenthood, supporting a constitutional amendment to ban same-sex marriage, voting against the Affordable Care Act and voting to make it more difficult for Syrian refugees to enter the country.
If you're wondering what makes Lipinski a Democrat, the answer is that there's a "D" next to his name, and that's about it. Yet he has somehow managed to get re-elected five times, even as many of his blue-dog cohorts in Congress lost their seats over the years to Republican and Democratic challengers alike. Lipinski has remained in power through his close ties to organized labor in his district, and via the local party machinery. He's also the son of former Rep. Bill Lipinski, who held the seat before him, giving him strong name recognition in the area.
This year, however, Lipinski has a serious primary challenger in progressive businesswoman and anti-bullying advocate Marie Newman. Newman is a populist, pro-choice, progressive Democrat, running on everything from increased gun control to LGBTQ rights to immigration reform. Should Newman oust Lipinski in the primary, it will be a nail in the coffin to the socially conservative Democratic politics Lipinski represents.
Pennsylvania's 16th Congressional District
While the race in Pennsylvania's 16th District isn't really on many national pundits radar, it's arguably a microcosm of progressive politics writ large.
The Republican-held district, just east of Philadelphia, is one of the Pennsylvania districts where Hillary Clinton underperformed former President Barack Obama, which ultimately helped Trump take the state in 2016. Lloyd Smucker, its newly elected incumbent congressman, has in turn voted with Trump on almost every single measure in the president's first year in office.
But what makes PA-16 important in 2018 is its test of progressives' theory that populist economic politics can help Democrats win in Trump country. Among the crowded field of Democratic candidates in the race, former non-profit director Jess King has distinguished herself as a champion of the kind of progressive populism that fueled Bernie Sanders' presidential campaign in 2016. Her campaign thus far has focused on her support for a "Medicare for All" single-payer health care system and tuition-free college — both marquee issues for the Sanders campaign in 2016.
King, who faces four other primary challengers, has already earned the endorsement of the progressive group Justice Democrats. She has also recruited former organizers from the Sanders 2016 campaign. Her primary campaign will likely be seen as a test of the Sanders movement's power within the Democratic party. Should she win the primary, her candidacy would then become a test of the idea that progressive policies — like single-payer health care and tuition-free college — can win over voters in the swing states that handed Trump the election.
California Senate Primary
California is a deeply progressive state, where incumbent Democratic Sen. Dianne Feinstein faces little threat from a Republican challenger. But it's not the GOP she has to worry about.
For years, progressive activists in California have decried Feinstein's close ties to members of the intelligence community, as well as her hawkish foreign policy leanings. Her decades-old votes for the Bush tax cuts and the Iraq War, her support for the death penalty and her demurral on the issue of single-payer health care all continue to haunt her in California's progressive communities.
Even Democratic members of California's congressional delegation have argued that it's time for the octogenarian four-term senator to step aside. But Feinstein's determination to run for a fifth six-year term has made progressives impatient. Feinstein now faces a host of challengers from the left.
Feinstein's best-known challenger is Kevin de León, the progressive California state Senate president pro tempore who's running as a left alternative to Feinstein. Another formidable challenger is progressive activist Alison Hartson, who's running on a platform to get money out of politics, and emphasizing Feinstein's large donations from defense contractors.
A Feinstein loss would demonstrate that progressive coastal bastions like California and New York can still force their incumbent politicians into competitive races, pushing them in line with progressive values.
Because of California's jungle primary system — which sends the top two vote-getters to the general election, regardless of party — Feinstein's challengers don't need to defeat her outright in the primary race. Whoever comes in second will be able to face Feinstein again in the general election without any other progressive challengers to compete with.
New York IDC Races
Much like California, New York progressives have their own purity test to carry out in 2018, but this one is happening at the state level. Despite having more Democrats than Republicans in the New York state Senate, the chamber is currently controlled by Republicans who have joined forces with a moderate group of Democrats known as the Independent Democratic Conference, or IDC, to form a center-right majority.
Progressives see the IDC as an attempt by corporate-influenced politicians with the tacit support of Democratic governor Andrew Cuomo to keep New York from becoming a leader in state-level progressive politics in the U.S. — as has happened California.
Those progressives hope to use the expected progressive movement in 2018 to oust IDC members in their primary races and put New York back under total traditional Democratic control.
The success or failure of their efforts could determine whether one of the country's most reliably blue states will actually be able to implement the kinds of progressive policies that it's voters support at the national level.
Illinois' Governor Democratic Primary
Illinois's Democratic primary for a gubernatorial candidate has just about everything you'd want in a high stakes political race: a dynastic wealthy insider, an underdog progressive challenger, a Kennedy (who, surprisingly, is not the dynastic wealthy insider), and an incumbent Republican trying to hang onto power in a blue state as Democrats battle among themselves.
Republican Governor Bruce Rauner, who came into office during the GOP wave of 2014, is the result of an upset from a strong Democratic challenger. But Rauner's vulnerability has led to a crowded field.
Leading the pack is hedge fund billionaire and Hyatt Hotel fortune heir J.B. Pritzker, who's family name is well known in Chicago, but loathed by many progressive activists across the country.
One of Pritzker's challengers is Chris Kennedy, son of the late Robert F. Kennedy, who is running by attacking Chicago's unpopular Democratic mayor, Rahm Emanuel.
His other main contender is Daniel Biss, a populist progressive who began his campaign by attracting nationwide support, but recently burned some bridges with the movement by dropping his running mate, Democratic Alderman Carlos Ramirez-Rosa. This was over Ramirez-Rosa's support for the Boycott, Divest and Sanction movement against Israel's occupation of Palestine.
The divisions among the progressive challengers and Pritzker's early lead sets the primary up as a potential test of the progressive movement's opposition to the Democratic Party's wealthy elite establishment and lays bare some of the existing divides within the left.
Indiana's 9th Congressional District
Indiana's 9th Congressional District will be an uphill battle for Democrats. Trump won the district by almost 27 percentage points in 2016, and the state of Indiana is likely to see a number of 2018 surrogate appearances by its former governor, Vice President Mike Pence.
But one Democratic candidate is trying to flip the deep red district with an unabashedly progressive political platform.
Civil rights attorney Dan Canon — who helped try the Supreme Court case that made marriage equality legal in all 50 states — is running a staunchly progressive campaign, promoting everything from single-payer health care to medical marijuana. He's even talking openly about the idea of a universal basic income — a boldly progressive position that few national politicians have touched.
Canon's campaign is also taking place at the same time that he's representing several protesters who were attacked at a Trump campaign rally and are suing the president for inciting violence.
Canon is facing several strong local primary opponents, but has received considerable national attention. Should he win his primary it will demonstrate the extent to which even Democrats in some of the most conservative districts support progressive policies. If Canon manages to unseat incumbent Republican Rep. Trey Hollingsworth, it could fundamentally change the way political strategists think about how to run red state campaigns.
Texas' 32nd Congressional District
Texas' 32nd Congressional District is unique for a number of reasons. The suburban Dallas district went for Hillary Clinton by a margin of 2 percentage points. Yet the district's incumbent congressman, Rep. Pete Sessions has been ranked as one of the most conservative members of Congress.
Sessions won re-election in the district by an overwhelming majority in 2016 for one simple reason — Democrats didn't even bother to run a candidate against him.
But that will not be the case in 2018, with seven Democrats competing for the chance to take Sessions on, including several highly qualified candidates with ties to big players in the national Democratic party.
Among the most notable candidates in the race are former Clinton campaign staffer Ed Meier, former Housing Urban Development lawyer Colin Allred — who also happens to be a former Tennessee Titans linebacker.
Meier has the endorsement of several former Obama cabinet secretaries, as well as that of former Clinton campaign surrogate and Trump foe Khizr Khan. Allred is being backed by a Super PAC created by former HUD Secretary Julian Castro.
The primary race will likely determine not only who will run against Sessions in November, but which former Democratic officials and candidates still hold power in the party in the age of Trump.