How to get money back for your delayed and canceled flights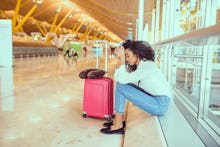 Countless delays, canceled flights and overbooked aircrafts are in the news on a daily basis. And if you think flying from A to B is consistently unpredictable, it's not all in your head: Government data reveals that 1 in 5 flights is delayed, Fortune reported in 2016.
A crop of new companies wants to help passengers get compensated for disrupted flights. Roughly 8 million people worldwide are eligible for money, miles or vouches from airlines, but less than 2% know it, according to AirHelp, one company that's helping passengers claim compensation after flights gone wrong.
In Europe, passengers are protected by law and have a right to cash if a flight is seriously delayed or canceled. In the U.S., passengers aren't protected by law under most circumstances, but many airlines will issue airfare vouchers in an act of goodwill, Michael Schneider, founder of Service, said in a phone interview.
Disruptions that could earn a passenger airfare vouchers after less-than-perfect domestic flights include delays or cancellations that were within the airline's control, such as tarmac delays, maintenance or changes in crew availability. But if you were cancelled or delayed because of weather — such as the recent bomb cyclone on the East Coast — then airlines aren't on the hook.
Though it's entirely possible for passengers to file the necessary paperwork on their own, these companies aim to streamline the process, promising to save consumers time while earning them money. (These companies then take a cut, of course.)
You could save a surprising amount: If you get bumped from a flight, you could be paid up to 400% of the ticket's price. And if you've had years' worth of delayed or canceled flights, those airline miles could add up.
Here's how these delayed flight compensation sites stack up against each other.
Best for the domestic traveler: Service
Founded in 2015, Service's excels at getting vouchers as compensation for canceled or delayed domestic flights, but it can also file claims related to international flights. You can access it on desktop or through the Apple app.
How it works:
Service allows users to sync a Gmail or Hotmail account. The site then mines the user's inbox for flight confirmation emails, and it looks for any flight cancelations or flight delays. According to founder Michael Schneider, a vast majority of claims are airline mile vouchers.
How much it costs:
The company takes a 30% commission for any compensation granted by airlines. To avoid paying the commission charge, users can opt to pay a $49 per year subscription fee. (Users can also get a $20 bonus for each referral.)
Best for learning about travelers' rights: AirHelp
AirHelp has been around since 2013, and the company is committed to helping passengers who have experienced flight delays, flight cancellations, missed connections and baggage problems. However, it can only file claims for delayed or canceled international flights.
Aside from helping consumers get compensated, the site also has a ranking of airlines based on how well they resolve compensation claims, how many on-time arrivals they have and a few other factors.
How it works:
The company asks users a few questions to determine whether a flight is eligible for compensation. Users can also sync a Gmail, Hotmail or Outlook account to import flight history to AirHelp.
Users can't file a claim for damaged or lost luggage claim on the site, but there's a wealth of information on best practices. (AirHelp notes that the average compensation for checked luggage that's lost or damaged ranges from $1,525 to $3,500.) The company can help see if a missed connection in the U.K. is eligible for compensation — but in the U.S., passengers don't have many rights and AirHelp can't file claims on a user's behalf.
A fun extra feature is the "travel map" that shows users statistics like how many miles they've traveled and the airlines and airports they use the most.
How much it costs:
AirHelp's service fee is deducted from any compensation a user gets from airlines. Depending on the flight, the fee is anywhere from 63 euros to 150 euros ($75 to $179), or users will pay a 25% commission on their compensation. And if AirHelp needs to take an airline to court on your behalf, there are additional fees.
Best for international travelers: Refund.me
Founded in 2012, Germany-based refund.me is the oldest company on this list. It specializes in delays and cancellations in the E.U., since a specific European law stipulates that passengers are entitled to ticket refunds and other rights if they are denied boarding or if their flight is canceled or overbooked. This also means that refund.me can take airlines to court if they do not comply with the law. The company claims it has a 98% success rate in court and can resolve claims in an average of 100 days.
How it works:
Check if your flight within the European Union (or to or from an EU country) is eligible for compensation. You'll need to fill out a questionnaire with the airline, flight number and departure date. The company will alert you if the case needs to go to court.
How much it costs:
Refund.me takes a total commission of 29.75%. There is no cost if a user does not receive compensation from an airline.