How Trump has attacked blue states during his first year in office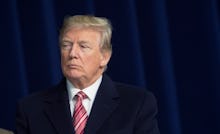 President Donald Trump took the oath of office a year ago with a speech in which he vowed the "forgotten men and women of our country will be forgotten no longer."
Yet since taking office, the policies Trump and the Republican-led Congress have enacted have tilted toward business and special interests — not the working-class voters Trump promised to focus on.
Instead of focusing on the "forgotten men and women," many policies that came from the Trump administration and the GOP were designed to specifically hurt the people who didn't support Trump in the 2016 election, including blue state residents and the college educated.
Here's a look at what Trump and the GOP-controlled Congress have done in the past year that would hurt both blue state residents and the working-class voters the president promised to protect.
The GOP tax bill
Republicans passed a tax plan in December, which they have touted as a gift to the middle class.
But the reality is corporations and the richest Americans benefit most from the bill.
Many Americans will see just a small cut to their taxes — and those cuts will expire by 2027.
And blue state residents are losers under the plan.
That's because state and local taxes are higher in states such as California, New Jersey and New York — states Trump happened to lose by wide margins in 2016.
Residents in those states used to be able to deduct their state and local taxes in order to lessen their federal tax burden. But the GOP tax bill limited that deduction, which could raise taxes in those states.
Changes to the Affordable Care Act
The GOP failed multiple times to repeal and replace the ACA.
However, Trump and congressional Republicans did make changes to chip away at the bill, which will have real impact on millions of Americans who get their insurance through the individual market.
Trump, for example, ended cost-sharing reduction payments — intended to subsidize the cost of health insurance for Americans. The nonpartisan Congressional Budget Office said ending the CSRs would cause insurance premiums to spike. A bipartisan group of Senate lawmakers reached a deal to restore those CSR payments, but Republican leadership has so far refused to put it up for a vote.
The GOP also repealed the ACA's individual mandate that requires all Americans to have health insurance, a move the CBO says could also cause insurance premiums to spike and leave millions more without coverage.
Crackdown on recreational marijuana
Eight states and the District of Columbia have passed laws legalizing the recreational use of marijuana. Of those states, only Alaska went for Trump in 2016.
But the president's Department of Justice — led by Attorney General Jeff Sessions — has pledged to crack down on recreational marijuana in those states, hurting their economies.
Federal law currently considers marijuana a deadly drug and bans its use. Under former President Barack Obama, the DOJ took a hands-off approach to enforcing federal marijuana laws in states that legalized pot.
But Sessions announced in January that he will allow federal prosecutors to enforce marijuana laws in states that legalized the drug.
Offshore drilling
Trump's Interior Department announced that it wants to allow offshore oil drilling along much of the U.S. coastline.
A bipartisan swath of governors from coastal states, whose economies depend on the tourism the coastlines provide, have come out against the plan.
But so far, it seems just one Republican governor has been successful in exempting their state from the new coastal drilling rules: Florida Gov. Rick Scott.
Interior Secretary Ryan Zinke said in a statement that he supports Scott's "position that Florida is unique and its coasts are heavily reliant on tourism as an economic driver."
It's a carve-out that hasn't been offered to Democratic governors from blue states, such as California, which also opposes the drilling rules and has a thriving tourism economy.
"California is also 'unique' and our 'coasts are heavily reliant on tourism as an economic driver,'" California Attorney General Xavier Becerra tweeted Jan. 9. "Our 'local and state voice' is firmly opposed to any and all offshore drilling. If that's your standard, we, too, should be removed from your list. Immediately."
Killing consumer protections
Rules intended to protect consumers from fraud and abuse from corporations took a major hit during Trump's first year in office.
For example, the Federal Communications Commission decided to end net neutrality, which was created in order to ensure all Americans have access to the internet.
Congress also repealed a Consumer Financial Protection Bureau rule that limited consumers forced arbitration clauses. Forced arbitration clauses prevent consumers from suing companies in public and instead force them into private arbitrations.
And Education Secretary Betsy DeVos wants to make it harder for students who were defrauded by their colleges to have their student debt forgiven by the Department of Education.
Things Republicans tried but failed to do:
Things could have been worse for blue state residents and the working class had the GOP been successful in more of its efforts.
Multiple versions of the failed ACA repeal bills would have caused millions more Americans to lose their health care, including low-income Medicaid recipients.
A provision in one iteration of the GOP's ACA repeal bills that would have prevented some blue state residents from getting health care tax credits for ACA plans also failed. That's because states such as New York require that health care plans cover abortion. But a provision in a failed ACA repeal bill would have prevented people from getting tax credits if they purchased plans that covered abortion.
Graduate students also got spared when the GOP decided not to include a tax on graduate school tuition waivers in the tax bill.
House Republicans initially included a provision that would have taxed graduate tuition waivers as income, causing students to pay a hefty tax on money they didn't technically earn. But that provision wasn't included in the final version of the legislation.