Will 2018 be a Democratic wave? These five House races suggest yes.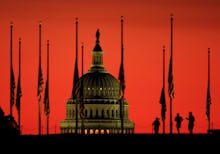 There are a number of signs 2018 will be a good year for Democrats at the ballot box — perhaps most notably President Donald Trump's dismal approval rating and the steady stream of Republicans announcing they'll retire instead of seeking re-election.
But there's another sign the 2018 midterm elections will be favorable to Democrats: Republican recruitment problems.
In February, shortly after Trump took office, the National Republican Congressional Committee — which seeks to elect Republicans to the House — released a list of 36 Democratic-held districts the GOP would target to hold on to their majority.
"Our battle plan will put us on offense in 36 Democrat-held House districts," Rep. Steve Stivers (R-Ohio), NRCC chairman, said in the February news release announcing the targets. "Our strategy will allow us to be competitive in races throughout the country and achieve our overall goal of keeping Republicans in control of the House."
Yet a review by Mic shows that nearly a year later, Republicans are stuck in many of these districts with weak candidates who have not exhibited the fundraising prowess needed to become credible challengers. In at least five of these districts, Republicans haven't recruited any candidates at all, according to Ballotpedia.
"I don't think there's a doubt in the world that it's a sign," Stu Rothenberg, a nonpartisan political analyst who has spent decades rating House contests, said in an interview regarding Republican recruitment so far.
Of course, there's still time for Republicans to convince top-tier candidates to run. But deadlines are approaching for candidates to formally declare with the Federal Election Commission, and the less time a candidate is in a race, the less time they have to raise money and build familiarity with voters.
Republicans did recruit challengers in some tough districts, including Dino Rossi in Washington state. But compare their candidate pool with that of Democrats — who are fielding a historic number of candidates — and the recruitment game looks like a good indicator of where things are headed in the midterms.
"Not only is it that a lot of Republicans are staying in the sidelines, but some Democrats who were staying on the sidelines for a couple of cycles are getting in the game," Kyle Kondik, a political analyst at the University of Virginia Center for Politics, said in an interview.
Here are five districts, where Republicans have yet to recruit serious challengers, that epitomize the GOP's 2018 troubles.
Iowa's 2nd District
Current member: Five-term Democratic Rep. Dave Loebsack
Loebsack is one of 12 House Democrats to represent a district Trump carried in 2016, which put him on the NRCC's top target list in 2018. Yet Republicans have failed to recruit a strong challenger to run against him.
Only one GOP candidate has formally filed paperwork to run against Loebsack: Christopher Peters, who lost to Loebsack in 2016 by almost eight points.
Peters has raised less than $36,000 since announcing his candidacy in July, according to FEC data, and has slightly more than $26,000 in cash on hand for the contest.
That's far less than the nearly $1.5 million Loebsack has in cash on hand.
Kansas' 2nd District
Current member: Retiring Republican Rep. Lynn Jenkins
Jenkins announced in January 2017 that she would not seek re-election.
Yet nearly a year later, Republicans who have announced or filed paperwork to become candidates in the district have raised paltry amounts of money — odd for a district that so strongly voted Trump in the 2016 presidential race.
Republican state Sen. Steve Fitzgerald, who announced his candidacy in April, has raised less than $170,000 — a total that includes a $100,000 loan, according to FEC filings.
Meanwhile, Republican state Sen. Caryn Tyson announced her candidacy in August and has raised less than $160,000 since then, including a $50,000 loan she made herself.
Democrats, on the other hand, tout their candidate — former Kansas House Minority Leader Paul Davis — as one of the party's top recruits. The Democratic Congressional Campaign Committee put Davis in the first round of its Red to Blue program — which aides the party's best candidates in districts the DCCC is looking to pick up. Davis has raised nearly $409,000 since announcing his candidacy.
There's time, however, for Republicans to enter the race. The filing deadline to become a candidate isn't until June 1, according to the Kansas Secretary of State's office.
Minnesota's 7th District
Current member: Democratic Rep. Collin Peterson
Now in his 14th term, Peterson represents a rural Minnesota district Trump won by a whopping 31-point margin. But even that massive win wasn't enough for Republicans to oust Peterson from the district. He won re-election by an 5.1-point margin.
In these polarizing political times, one would think Republicans should be able to oust a Democrat from such a deeply red area.
But so far, no strong Republicans have stepped up to run against Peterson in 2018. Dave Hughes, Peterson's Democratic challenger in 2016, announced right after that election that he would seek a rematch. Meanwhile, Republican Matt Prosch — who has raised just $600, according to the FEC — doesn't seem like a serious contender.
GOP state Rep. Tim Miller announced a bid over the summer, but dropped out of the race in December.
Peterson told the congressional newspaper Roll Call in August that he is seeking re-election.
New Jersey's 2nd District
Current member: Retiring Republican Rep. Frank LoBiondo
LoBiondo announced in November he would not seek re-election to his seat, opening up a key swing district for Democrats.
While New Jersey is very much a blue state, LoBiondo's district actually swung toward Republicans in 2016, with Trump winning it by a five-point margin. In 2012, former President Barack Obama won the seat by an eight-point spread, according to the Cook Political Report.
Yet top-tier Republican candidates keep passing on running for the seat. In fact, two months after LoBiondo revealed his pending retirement, there are no Republicans running for the district at all.
"That's a district where Republicans should be able to recruit a candidate," Rothenberg said. "And if they can't, it's a bad sign."
Democrats, meanwhile, have consolidated their support behind state Sen. Jeff Van Drew.
"A handful of white whale Democratic recruits finally jumped in this time," Kondik said. "Van Drew was a guy who had been mentioned as a candidate for a long time."
New York's 18th District
Current member: Democratic Rep. Sean Patrick Maloney
Maloney is another Democrat sitting in a district Trump took — and one the NRCC said it would target in the 2018 midterms.
In a tough election year and to help mitigate any losses, the GOP is looking to districts that flipped from former President Barack Obama to Trump in 2016. Yet the two Republicans who have announced bids here don't appear to be serious contenders.
Sakima Brown, who ran for the seat in 2016 but dropped out, has raised less than $1,200 for the race, according to FEC data.
Another Republican, Jarred Buchanan, filed paperwork in November to become a candidate, but has yet to report any fundraising dollars.
Maloney, on the other hand, starts the race with a big cash advantage, reporting more than $2.8 million in cash on hand.